Yes, shared hosting is relatively safe, but, seeing as it is the most widely used web hosting available it can be open to security issues.
In this short article, I'll address the concerns related to is shared hosting safe and show you what it takes to enhance the security of your websites.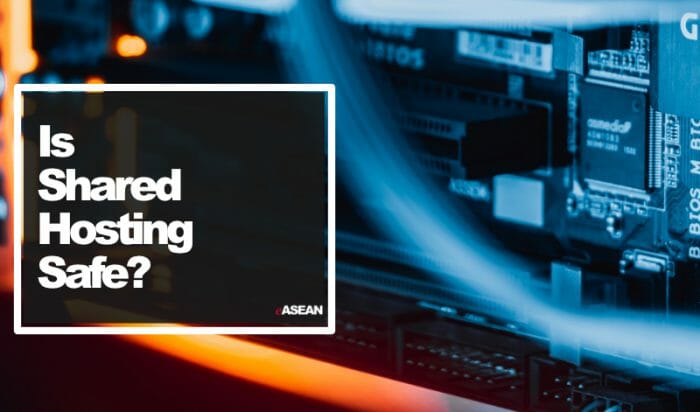 Create regular backups
I think this goes without saying, but the frequency of the backups that you do for your shared hosting websites is key to ensuring that you have no issues.
The reason is simple. If your web host gets hacked for any reason, you will be able to get the hack fixed, and then reinstall your backup without any real issue to your website and content.
Use DDoS protection
A DDoS attack is when your website is sent huge amounts of malicious traffic, to overwhelm your site server and in turn, take your website offline.
The idea behind this attack is to take your website offline so it cannot be reached by real customers who are looking to access your business online.
Using a hosting company like A2 Hosting comes with many security features including automatic DDoS on all their shared hosting servers.
You can see our breakdown of the top 5 shared hosting companies in Singapore at ecommerceasean.com, each that has DDoS security measures as standard:

Avoid untrusted sources
If you have been using the internet for any length of time you know that it is a bad idea to visit unknown websites and download resources from untrusted sources, as potentially they are full of malware, just ready to attack your own website and invade your hosting account.
Choose a safer hosting provider
Not all hosting companies are created equal, and you should look out for a shared hosting service that offers clients very secure hosting features and support.
It will be a massive benefit to you and your sanity to find a shared hosting platform that has top safety features, like A2Hosting.
Stronger passwords
You have heard this time and again, but seriously, do NOT use the same passwords for all of the services you use. In this day and age, users must guard their data so well.
Don't use the same password for your email address and your sites.
Don't use the same passwords on multiple websites.
Take advantage of password generators.
Use a password manager also like Keeper.
Is shared hosting safer than Dedicated hosting?
No, shared hosting is not safer than having your own dedicated server. The reason being is this:
Shared hosting providers allow many different websites onto their servers, the more people and websites, the more one of the clients doesn't look after some security issues (likes opens a bad file), the easier it is for that hosted website to infect the entire server with your website on it.
Vs web hosting companies that offer dedicated servers to their clients. This means that you are not on the same server as anyone else and your server only hosts your websites. Cool but expensive if you are starting out.
Update Software Regularly
Just like anything, you have to keep your website software up to date. The truth of the internet is this. It is a mean and dangerous place if you let it be.
Hackers are constantly on the prowl for an easy to hack website (they can make money from the break-in).
There are people all over the world who write and create malware and viruses with the sole purpose to break into a web hosting provider and invade old software.
If they find software that is old, and has been used for a while, they might have already found a loophole to break-in to that software.
Embrace two-factor authentication
This is great and something that potentially you use already for the likes of Facebook or Google Gmail.
This is when you have a password for your website, but you also use your mobile phone when you want to login.
The process happens like this. You try to login to your website, you enter your password, then your phone gets a message with a separate code and you enter that code in on your computer too. It's a really good way to ensure you keep your account very secure.
Is shared hosting safe? Yes, as long as you keep tings on your side safe too.
No matter whether you are running your websites on a physical server or a shared host, you need to keep your business things safe. Shared hosting is part of your business, so while your web provider will have security things in place you also need to be proactive.