Shared web hosting can be a bit difficult to understand for those users thinking about getting a website online. So, let me break it down for you here easily with an example of shared hosting services in relation to an all-inclusive hotel – they are very similar.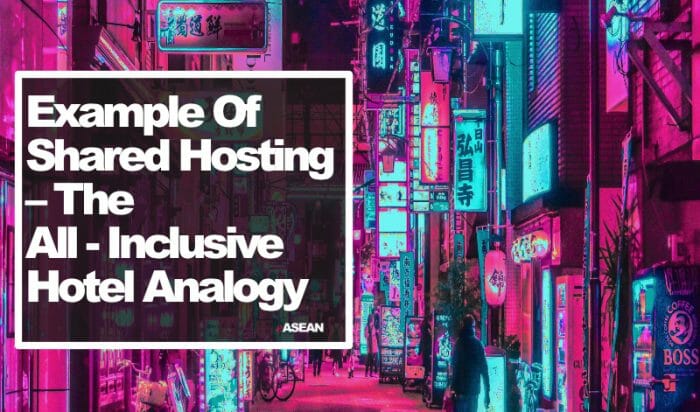 What is Shared hosting?
Shared hosting is a place where multiple people/small business owners/entrepreneurs rent and access space on a shared web server (the name for the location your sites are located).
That server can hold a few websites to a few hundred websites, so as you can imagine, it can get super busy!
You rent this space from a hosting provider so that you can put your website onto it, so that your website can be shown online, on the internet.
If you do not have hosting, you cannot get your site online, so you must buy or rent this space to ensure that people or your customers can find your online business.
All-Inclusive Hotel Example of Shared Hosting
I like to think of shared hosting businesses as very similar to an all-inclusive hotel.
There is One hotel = One server.
Each person gets their own room = each website owner gets its separate server space.
The all-inclusive meals = the resources each person gets.
Some people eat more food = some websites use more resources.
If everyone eats loads, hotel runs out of food fast = If everyone uses loads of resources, server runs out of space fast.
If everyone gets stuffed they get slow and lethargic = If every website eats the resources more lagging and problems your website has.
So, as you can see, the idea is very similar to how an all-inclusive hotel works. Some people eat loads, some don't, so it levels out.
If everyone eats loads, there are issues, the same with shared hosting providers, if everyone eats all of the resources of the web hosting companies' servers, there are issues.
What is the best shared website hosting?
This all comes down to what it is that you are after, and how much money you are willing to spend on your shared web hosting options. Because the prices can really range from a few dollars all the way up, and choosing the absolute best web hosting Singapore package can cost you a lot.
If you are looking for a good website hosting company that offers shared hosting at a really affordable price, then the best company to choose would be Hostinger, but they don't rank super high with support issues.
If you are after some awesome performance, then perhaps you might look to Dreamhost for its excellent hosting servers.
But, maybe you want a mixed bag, a general overall best of a shared hosting provider, well then maybe you would look at A2 Hosting, and you might pay a bit more to use their service.
Are Shared Hosts Any Good?
Yes, shared hosting is good, but not for large websites and corporations. If you are a small business looking to build and manage your first online presence then yes, shared hosting will be sufficient. If you are a blogger looking to get your web pages live, then again, a shared website host is perfect for you…
If you are looking to showcase a portfolio of your work as an artist, or are looking to just learn the ropes of website design again, shared hosting isn't bad.
I actually think shared hosting gets a bad rap. It really is good, and if you are looking to start off small, and build up, then upgrade, shared hosting is the perfect start for you.
Are Shared Host Servers Good For Business?
While you won't get the speed of its sister hosting type in VPS (Virtual Private Server), or a dedicated server, shared hosting is really good for just:
Normal websites,
with normal graphical elements,
medium traffic, and…
Good site loading speed.
If you are looking for a good web host, Dreamhost's shared website hosting plan has good ratings all-round with:
No bandwidth limits,
emails addresses, or…
MySQL databases (don't worry about these yet)
How Many Visitors Can Shared Hosting Handle?
If you have less than 100,000 visitors per month to your website, and you are not looking for seriously high-grade performance, the shared hosting will do well for your business.
Just think about it, that is more than 3000 visitors per day.
If you were to do some math on this and calculate the conversion rate of visitors to your site to sales, I'm sure that you will be able to see that shared hosting is a pretty solid plan or package to get for your website.