One of the main advantages of shared hosting is that your website can be launched super easily and without pretty much any technical know-how.
Another is that shared host companies tend to have excellent customer support…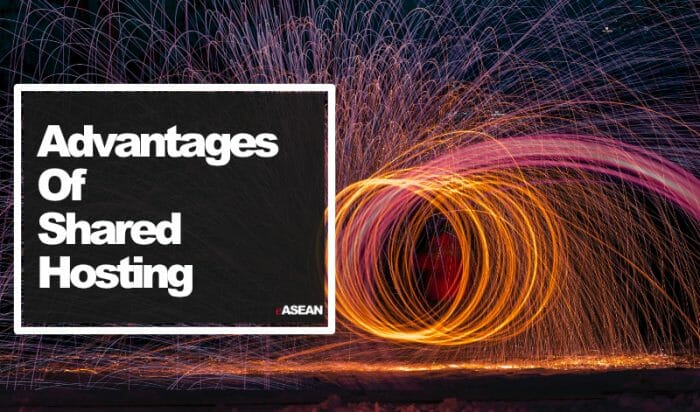 Advantages of shared web hosting
For a beginner starting out, here are the advantages of shared hosting: There are numerous benefits to opting for shared hosting. Let's take a look at the fundamental features of shared web hosting:
Shared Web Hosting Is Cheap
Shared website hosting is a very inexpensive solution for hosting your site. The reason being is that it is 'shared' hosting. it means that you shared the cost of the server that you are on with many other websites. You can get started from as little as $1 per month for some shared hosting services, and others, depending on how much disk space you get, bandwidth, website number, you can be charged more.
It's easy to use
It is really easy to use and even if you are a complete beginner to website hosting you won't have any issues using it and getting up and running really quickly. Also, you have a great thing called a cPanel which is like an easy-to-use control panel for your hosting company that allows you to set up complete websites in a few clicks of a button.
YouTube tutoriala on how to use it
If you ever get stuck with problems on your shared hosting and you decide that you don't want to use the customer support, you can look at the thousands of tutorials on YouTube on how to do everything related to your shared hosting admin section, including setting up your website, creating email addresses and so much more.
The customer support is normally really good
If you ever have any issues with your shared hosting account the first place you should go to is your customer support. They are completely versed in pretty much any problems that you may be facing and have teams of people just ready to help you out of your pickle. Sometimes it can be a simple 1-minute text conversation, others it can be over the phone (depending on your host of choice), but no matter your issue, the customer support team is there to help you out when you need it.
Maintenance is carried out super quick
The thing with shared hosting is it is normally the bread and butter income of most web host companies, so they make sure that their shared servers are running so well. If ever they do have any issues on their server their team of hosting tech wizards kick into action so your website doesn't experience any noticeable downtime.
You don't need to be a techy
Yes, you do not need to be technically minded or gifted in any way to use shared hosting, and most of the time, you will never ever touch or see any code, which is a relief. The way these hosting platforms are created nowadays is with the beginner in mind, so all tech elements are alleviated as much as possible, meaning plain sailing for you.
You can get your own website online within a few minutes
Yep, with a few clicks of buttons in your shared hosting cPanel, you can have your very first website up and running in about 2 minutes. Seriously, it's as easy as locating the image that says Softalicious (a software installer), choose the software you want to be installed (WordPress or many others), put your domain name in, and click install. That is it, and your website will be ready within a minute to log in and start adding content to.
You can run multiple sites on shared hosting
Many shared hosting plans allow you to run an unlimited amount of websites on your hosting plan. So when you start off with one and have grown it to a level where you are bringing in an income, you can then add another, and after that another. While it says unlimited, I like to stick to a max of 10 sites on the shared hosting packages.
You get lots of free resources
Yep, because these shared hosting companies are trying to get you to become their customer for life they are going to give you loads of free things to help you get started (hoping that you will stay with them). Some of the cool things that you get for free when you sign up for a few hosting companies include: 1) A free domain name for your website, 2) A free CDN (content delivery network), 3) A Free SSL (security), 4) Free backups of your website, 5) Free domain privacy, 6) Free themes to use to make your site look great, plus so many more things.
You can also potentially have up to 100,000 visitors per month on your website while using shared hosting – but my recommendation, if your traffic gets over 20,000 upgrades to VPS.
Shared Hosting Support
One of the things that you need to consider when looking for good shared hosting is this. A good support team can help you when you have any issues.
Google it…
What I mean by this, if you have whittled down your shared hosting list to just a few, then google their name + customer service review, like…
"A2 Hosting customer service review"
And look at what others are saying.
We did it here, in our eASEAN best host Singapore review, which tells you our experience with multiple shared hosting support services.
By renting a portion of a web server, you gain access to everything you need. A hosting provider like A2hosting, Bluehost, or Dreamhost handles server maintenance and allows you most of the time to run multiple domains on their shared hosting services.
Why should I start with shared hosting?
If you are new to an online business or thinking about starting a personal blog then sharing server resources with multiple websites in one web hosts shared servers is a super-easy way to get started.
Shared hosting users are the bread and butter of any host company. And because of this, they know that their users are new to the hosting world.
The number of new websites coming online each and every single day is crazy, have a look at the excellent internet live stats to see every time a new website comes online. And just think, each time that website comes online, they need hosting to make it happen.
They make sure that everything about their hosted service is super is so straightforward and easy to use.
One of the most popular things hosted on servers is personal websites using WordPress CMS. This is a content management system that allows you to easily get a website, with domain and content up onto the web.
Your hosting company makes the process so simple, sometimes as little as 2 to 3 clicks, and you can get your own personal website or blogs live within a few minutes.
When not to use shared hosting?
The time when you shouldn't use shared website hosting is when:
Your business starts to grow rapidly and you need to scale up quickly.
You are starting a web project that requires more power and performance.
For this, you would start out using a Virtual Private Server (VPS), or even going full hog and getting dedicated servers for your sites, dependent on what your project requires.
Also, because of the way shared hosting works, hosting multiple websites on the same server, if security is essential to your business, you might think about looking outside of shared for your server requirements.
Which is the best shared web host?
There are multiple best web hosts to choose from, and picking one of the top 5 host companies you will never go wrong, really.
Again, this is also dependent on your budget, and if you are looking to manage your hosting yourself, or are looking for a managed web host to look after your site.
On Managed (WP Engine) the company look after all server infrastructure, has an easier experience for users and a higher quality level of support (but you pay for it).
Or unmanaged, it means you have more control over your server.
Great unmanaged shared hosts include:
a2 Hosting
Bluehost
Dreamhost
Our advice here at eASEAN, if you have the budget, go managed, if not, stick with unmanaged.