Small & Medium-sized businesses are the lifeblood of the Singaporean economy, and account for 99% of all businesses, with just over 64k new businesses set up last year alone.
Large corporations don't really make a dent in the real landscape.
And with the Singaporean governments continued incentives (like the Double Taxation Agreement) expect this to continue.
This will have a massive impact as more new online stores and small businesses enter the marketplace and drive for global reach.
UPDATED: 11/17/2021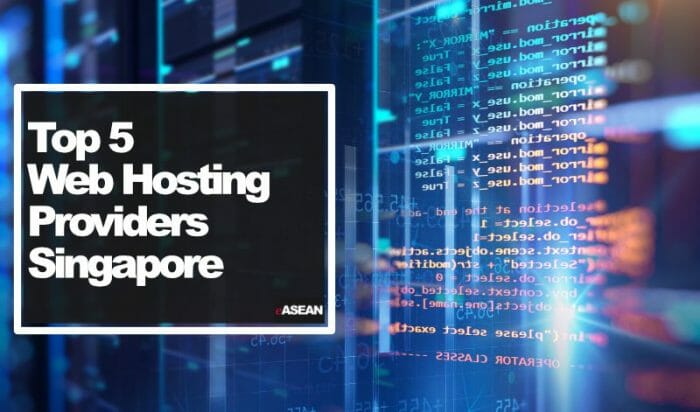 With this online drive at the forefront, finding the best web hosting services in Singapore to take your business online is to key to your future success.
One of the best web hosting providers for Singapore overall (And our choice) is A2Hosting

 

with local data centers, cloud hosting, dedicated server hosting, great performance, trustworthiness, and price.
As Simon Tang likes to say:
"If SME's are the lifeblood of the Singaporean Economy, web hosting is the new heartbeat of online business…"
And these businesses are not just the traditional bricks & mortar type enterprise. Many are/or have e-commerce vehicles…
Because eCommerce is booming – with Singaporeans spending $2.7bn online in the last year alone.
Here is what it all comes down to:
As every budding new entrepreneur knows if you've got a website, be that eCommerce, service, or content, you need a good solid web hosting service.
And, without good hosting for Singapore businesses, your site cannot exist on the web.
Well, it can, but without finding the best web hosting provider, it will be hard for your business to excel.
Shared Web Hosting In Singapore – Good For New Business
When looking for a web hosting provider in Singapore, they come in many types (cloud hosting, a dedicated web host, and VPS hosting – Virtual Private Server).
But today we're going to focus on web hosting companies that focus on Shared Hosting – which is particularly good for small business.
A shared web host is the most economical option offering, offering cheap web hosting to clients (because the hosting service and its cost are shared with other websites).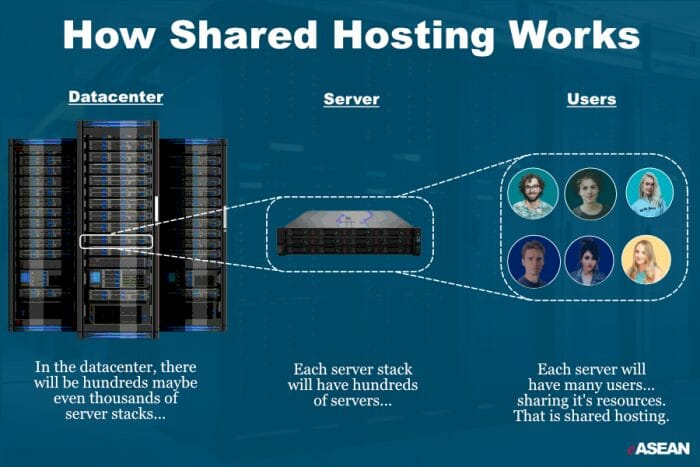 It's great for a new business website or an older business dipping its toes into eCommerce for the first time. But like everything shared hosting for Singapore has its strengths and weaknesses,
So make note…
eASEAN Evaluation Criteria For Shared Packages
New Singapore websites need certain key features to keep up their daily website reputation. Just like an offline business, that's why providers in Singapore must be at the very best levels…
As the potential success of their clients relies not only on local website visitors but also on a global reach, enabling the growth of local business.
So our criteria for providers in Singapore include: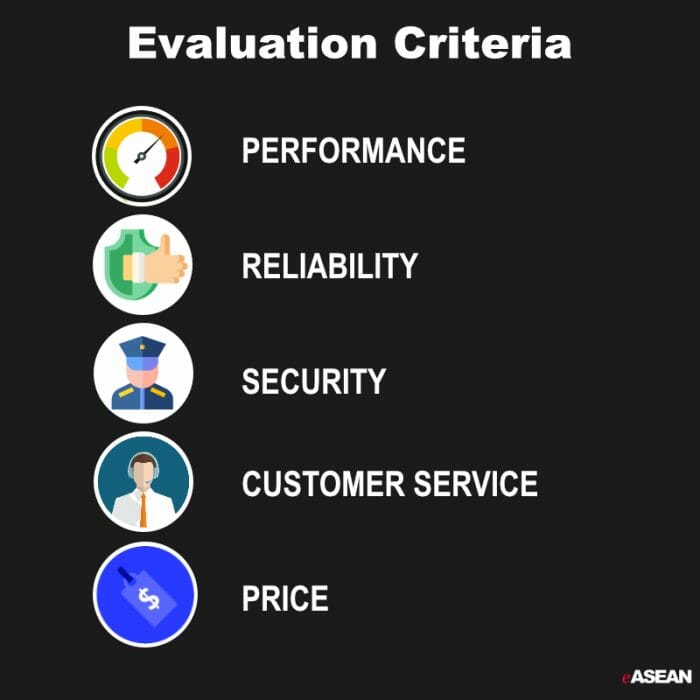 1. Server Speed/Performance
because web host loading speed can mean the difference between views decrease on your site, or converting more people into sales.
So choosing a plan with great website speed / performance is key.
Also, a WordPress site can be great if you are starting out.
2. Reliability
You are always going to be looking for reliable web hosting services.
This means your site is open for business 24 7, an unreliable hosting service can mean lots of lost customers.
3. Security
Your business website and their data are under continual attack.
You need your web hosting in Singapore to have up-to-date security systems in place – a must for all web hosting companies.
4. Customer service
When you are new to this game, everything can feel complicated.
You need a hosting provider with a team who can take the pain and make your transition into web hosting easily.
5. Price
A new businesses' greatest struggle is usually financial, and as such, you need to keep our costs to a minimum.
A lot of the time choosing your web hosting company can be down to how cheap their plans are, and what free resources you get like, unlimited bandwidth, domain names, and SSL Certificates.
Who Is The Best Web Hosting in Singapore
Let's get into these hosting reviews, and see which web hosting company is right for you …
A2Hosting Shared Hosting Plan Singapore
As can be expected with our top shared hosting – A2's Singapore Web Hosting scores well against all our criteria for the web hosting industry, a brilliant web host for online businesses, that is:
A2 Hosting Includes
Ultra-reliable,
WordPress Hosting Content Management System Optimized,
Unlimited websites and also they offer unlimited bandwidth,
Hyper-fast performing hosting, and loading speed,
Backed with their super-knowledgeable 24 7 support 365 Guru Crew,
Web host package starting from as little $2.99 a month,
Use of Cloudflare CDN ( Content Delivery Network ),
Offers Free SSL certificates,
Can set to do automatic backups to Google Drive, even daily backups if required,
Singapore based data centers, and Singapore landline number – +65 3159 1502,
Anytime money back guarantee.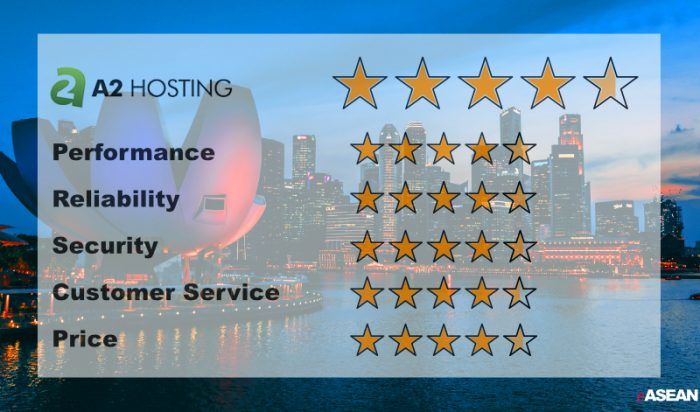 As a long-time user of A2Hosting (Started off hosting WordPress sites), and now VPS Hosting, we have found that there is a wide variety of plans for every type of business out there.
And now with all types of host plans available here in Singapore, from shared hosting and VPS hosting to dedicated servers… both novice and professional can rest assured and now expect even greater enhanced solutions with Singapore's best hosting.
eASEAN Criteria For A2 Hosting Singapore
Performance
20x faster than their competitors – With a company motto "Our Speed, Your Success", should be more "Our Lightning Speed" – you know that blazing fast servers and performance is of the utmost importance to them.
They are constantly following Core Web Vitals, helping get the first input delay on-point, and making sure that your largest contentful paint is below required marks (trying).
A2 realizes that a web host with slow load time (of your WordPress website / Personal Sites / Business Site) can mean lost business, so they have made lightning fast loading time their priority (A Google ranking factor).
With their free high-performance free SSDs ( Solid State Drives ), every package offers lightning fast hosting and loading speed.
BUT, if your website server speed is your absolute priority A2's Turbo Servers will deliver 20X faster page-loading than any of the other service providers.
Along with their use of Cloudflare, their content delivery network, this makes for top marks. Plus, to maintain the performance of server speed, A2 monitors disk space usage and also keeps an eye on server downtime, obviously.
Reliability
Super-efficient SSD storage space offering Ultra-high reliability. While pretty much an industry-standard guarantee, A2 offers 99.9% uptime commitment, and because their high-performance free unlimited SSD storage is super efficient in how they handle read/write operations.
As a result, SSD storage space is more capable of handling peak times traffic (than HHD's) meaning your site will be safe in its uptime
Security
Optimized Software for enhanced security. A2 have also worked well in terms of utmost security and cyber threats, optimizing and pre-configuring their software for all your favorite software platforms including… WordPress / Opencart / Drupal / Joomla / Magento.
All of this additional bespoke (software) configuration is conducted to enable greater security.
Customer Service
Multiplatform 365 Gurus. With a dedicated customer support team, available 24 7 support for their web services, with…
365 live chat/email/messenger/Facebook lives/webinars/forums/faq's/quick guides, the GURU Crew has covered most places on the web to share their knowledge and solve your problems.
Price
A wide range to suit every need. They are created to suit every business/site need. With up 72% off and starting at $2.99, they also offer 30-day money-back, a free SSL Certificate, so A2 is offering a low-risk, low-cost package to suit every business type with a price tag to match.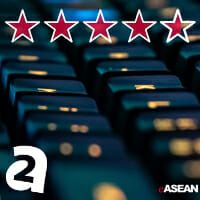 A2 Shared Hosting Singapore
Local-based servers, with excellent industry-leading performance and dependability, topped off with such easy to communicate with and friendly staff, super quick support ticket answering, which makes A2Hosting the best web hosting service provider in Singapore.
Why A2's Web Hosting Is Best All Round
A2 Hosting is our "best web hosting providers winner" for good hosting services in Singapore. This comes down to its server speed and performance, even for its cheapest host packages.
Its performance and reliableness, some of the best in the hosting business altogether, and then, its excellent customer support service is world-class.
If you feel like you will be adding lots of support tickets, then maybe this is right for you.
Top that off with plans starting from a few dollars per month, and offers FREE SSL certificate, the ability to install WordPress Hosting content management system super quickly, making it the best web host from our testing.
Where A2 Hosting Falls Short – US Based Support
We have to be honest, we found it pretty hard to find a weakness with this web host, and maybe we're nit-picking here, but we'd say that the Guru crew being based predominantly in the US is a slight weakness for the Singaporean customer, as they may miss some local nuanced knowledge.
But it is a very small weakness as the Guru crew are up there with the most knowledgeable team out there about their hosting services.
eASEAN Score For A2's Shared Web Hosts – What A Winner
A2 Hosting is a well-balanced website hosting in Singapore with a winning score of 4.7/5, especially if you are using the WordPress Hosting CMS.
Our team of hosting nuts here dug deep for dirt, ran interviews with customers, and tested our own array of sites for this information, and we couldn't find much to fault with A2 as a web hosting provider. Highly recommended.
Hostinger – Best For Budget Saving Web Hosting
With plans coming in as low as $1.39 a month (with a 30-day money-back guarantee), Hostinger offers the lowest web hosting packages in the entire market with super affordable prices for all, offering well-balanced hosting for beginners.
So, this is great for any new business starting out on their eCommerce or internet business venture, who needs to watch every cent.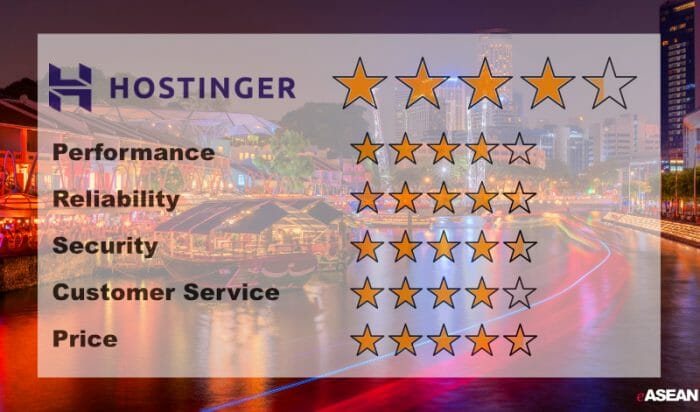 eASEAN Criteria For Hostinger Singapore
Price
Price is King – Price is undoubtedly the big draw for Hostinger. As mentioned basic shared hosting packages start as low as $1.39 for a single plan (to host a website), brilliant for WordPress sites…
However, to benefit from their cheapest hosting plan you will need to commit to this company for 4 years. But, there is a 30 day money back guarantee on your order.
If you are willing to commit to Hostinger for at least a first year (as most contracts seem to be) the deals are still fantastic, with the Single Package Plan coming in at $2.99 (one website / one email / 100Gb of data transfers / 30GB SSD storage space / 10,000 Visitors).
The Premium Plan coming in at $5.99 (100 websites / 100 emails / 100Gb of data transfers / 30gb SSD / 25,000 Visitors).
The Business Plan costs $6.99 (builds upon the premium plan and adds daily backup / free CDN to speed up your site / quadruple processing power / 100000 visitors).
Reliability
Excellent local server dependability. They offer an industry-standard up time of 99.9% of the time.
For Singaporean businesses this is further enhanced with their locally based data servers, meaning very low latency and ultra-high trust.
The data center location means it won't lag and your customers will be happy using your super quick website.
Performance
All the features and performance a beginner will need. When you look at the Hostinger plans for a website's performance, you can see they're top for beginners.
They're not overloaded with irrelevant features and capacity (disk space) which your business does not need.
However, as your site progresses, and you need more resources and things like disk space, certain features such as their limited data transfers capacity (100GB) or the 30GB of SSD storage space or the smaller monthly websites visitors (10-100k) may be restrictive for your business's growth.
Saying that they have custom optimized their software for WordPress Hosting and enhanced their offering with Litespeed Powered Caching.
Customer Service
24 7 support /365 but no phone call ability. They offer 24/7/365 contact via live chat/email.
They have a very well-educated team who are also on social and forums helping all their customers, but currently, they don't offer telephone support.
So if you're new to this and would like a friendly voice to talk you through your site problems this could be an issue.
Security
Advanced Security Modules means your site is in the safest place online. With these secure access modules (mod_security, Suhosin PHP hardening, PHP open_basedir protection) they can guarantee the highest security level available today.
But more than that, the Hostinger Support Team (and community) release regular features on how to further enhance the security measures around your site, looking after the security management, clever stuff.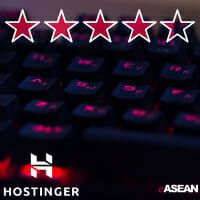 Hostinger Shared Hosting Servers Singapore
Price is where Hostinger stands tall, awesome for small businesses. Starting as low as $1.39 for a single plan, if you are on a budget or dipping your toes into the online market, this could be the place to start.
Why Hostinger Shared Web Hosting Is Best For Budget
Well, I think that speaks for itself. It is just so affordably priced, plus an added bonus of this web hosting provider is a data center in Singapore and a 30 day money back guarantee.
Think about it, for less than the cost of a single cup of coffee you can have your very own hosting account, with a local data center, with the website up and running with easy to use control panel.
And this isn't just any old web hosting either (they also have VPS Hosting and Cloud Hosting), this is a quality, award-winning host (2018 Great User Experience and 2018 Rising Star awards).
It comes with exceptional customer service and top-quality technology – other website owners are happy with Hostinger hosting services.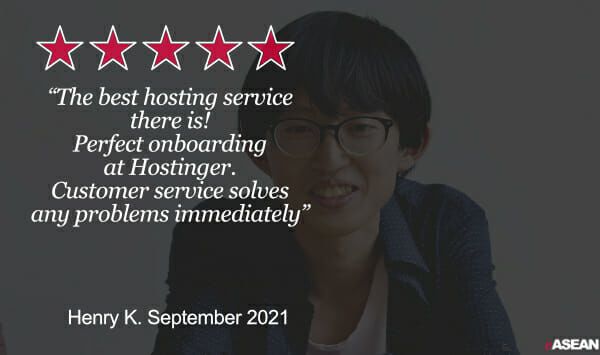 Where Hostinger Falls Short – Lacking Some Features
While the best features of Hostinger SG are top notch for the budget-hugging business, the ultra-low price does come at a cost, as their starter website hosting plans lack some features, like…
Lowered disk space in relation to other providers – including lacking friendly customer support via telephone and dedicated servers.
eASEAN Score For Hostinger Website Host – So Good
We score Hostinger website hosting plans a 4.2/5. This is based on the performance of the hosting packages compared to our other finalists, and also, the lack of telephone support can cut their response time.

BlueHost – Best for Tech Novice
This is the best web hosting provider for website owners new to online and websites in general, be it a new business or hobbyist who just want a hosting package:
They have an easy to use, user friendly control panel, and website builder for simple web design,
With free domain name,
Affordable prices, with a 30 day money back guarantee,
Without the added complications some of the higher-performing providers offer,
And with the best user experience for your WordPress website,
Single click installs, meaning with just one click you can get your site LIVE.
With Blue Host website hosting over 2m websites worldwide, this market leader and their massive customer base must mean their easy-to-use-stripped-back offering is doing something right – super easy if you are a WordPress site lover.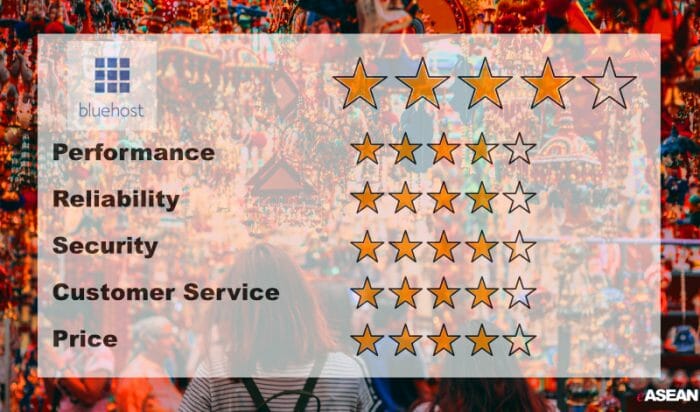 If tech is your enemy,
The idea of server management makes you cringe (if you even know what it is),
Disk space is not really cared about,
And a daily backup isn't necessary,
Then this could be the best web hosting Singapore for you because you won't have to worry about things like:
SQL Server management issues (you don't know what that is, don't worry, with these you'll never need to).
And their Control Panel is the easiest of all providers to use…
It's so easy to use you will be up and running with your online presence in under 1 minute, as their domain name registrations are also so easy – great for WP Sites, and packed with all the resources you need.
eASEAN Criteria For Bluehost Singapore
Performance
Ease of use – When talking about performance we're usually talking about speed, storage space, addons, bespoke software, etc.
But when we're talking about it here, we're talking about relevant to people who are just not technically minded.
The ease of use is where Blue host hosting plans stand out, even complete newbies will feel comfortable navigating the admin sections and the CPanel.
And brilliantly, doing this while still performing competitively with the list here above.
Also, Blue host software is tailored to work perfectly as WordPress Hosting and is mentioned officially as their hosting choice.
Price
Best Value Annual Hosting Plans – They definitely offer some of the best deals around. Basic Packages start at $2.99 (with 50 GB of disk space storage) including a free domain name, free SSL certificates, free domain name transfer, 5 email addresses, and unlimited disk space storage.
Moving to the Plus Plan $6.99 you will get an unlimited website, antispam software, and unlimited daily backups. With these two value plans, you have everything and more for someone new to this game.
However, they do fall down in the pricing sector because they do not offer monthly plans. You have to buy annual plans (so even though it's $2.99 per month, you have to purchase in it an annual lump sum)
Reliability
Industry Standard – With a 99.9% up time, they offer the stability every newbie needs. Also, their servers are seriously backed up with UPS Power BackUP and Diesel Generator Backup – meaning you can stay safe in the knowledge that your site will be live all the time.
Their server data centers locations are in the US, so sometimes there will be a little more lag time in comparison to the providers with a Singapore-based server location. Something well to note here.
Security
Safe, Secure, and Continual Monitoring – They scan your site daily for viruses and malware detection with SiteLock. Their servers also have 24/7 Network Monitoring.
They also offer daily/weekly & monthly backups. As well as their own security measures, they have made it as easy as possible to add additional security measures to your site via their simple to use CPanel.
Customer Service
24/7/365 Live Chat – They claim to offer 24 7 support via live chat/support ticket/telephone/ and emails, which means super-fast response time.
However, the majority goes through Live Chat, which may be a problem to some people starting out who might need a friendly voice on the other side of a line.
If (like many) you're not a fan of Live Chat they have an extensive catalog of easy-to-digest support material online.
Bluehost Best For Tech Newbies In Singapore
With prices starting at as little as $2.99 a month and the ease of use of the backend admin panels and CPanel, the perfect hosting company to get if you (like so many others) find the idea of tech a frightening worry. Brilliant for WordPress Hosting.
Why Bluehost Is Best Web Hosting For Technophobes
If the response time and tech support are things you dislike, and your random support ticket will never happen, we recommend BH for its ease of use, and amazing user friendly appeal, a reliable web hosting service for novices.
With these guys you can get your first website up online and ready to bring in visitors within a few minutes. The process is just so simple:
1) Buy hosting, enter your chosen domain name into the domains section,
2) Use 1 click install for WordPress Hosting,
3) Look in the templates section and add a free one to make your site look great,
4) Add content and publish on WordPress.
That's it, you have your website up with a free domain and free SSL certificate. Now while there are other things that you can add to your website, like themes and images, etc.
…the basic setup and underlying tech administration that most people fear are eradicated by their tech-bumble-free interface – a clear reason why this web hosting provider rocks!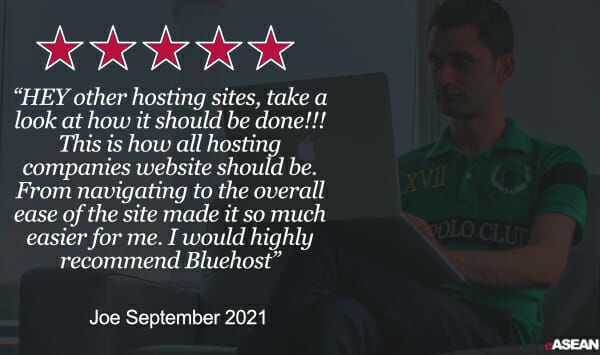 Where Bluehost Falls Down – Not Great If You Are Advanced or Expert Level
Best for the Novice and hosting sites and is not great for the expert – This stripped-back hosting the company offers is not for everyone, but is perfect for web content, video tutorials, etc.
If you've been in the business for a while, know your way around the back end of a site, and have a high functioning business that requires a lot of high-performing add-ons and software with an ability to scale easily…
There are top services out there other than BlueHost (although you could look at their VPS Hosting too).
eASEAN Score For BlueHost – Another Fantastic Company
They get a modest 4.1/5 for web hosting in Singapore. The reason they drop so much is that their servers are located in the U.S, which means data transfer lag time.
They aren't for businesses that require very much performance clout, but… if you are new to websites and want an easy-to-use solution, and could be the reliable web hosting partner you are looking for.
Dreamhost – Best For Reliability in Hosting Sites
The reality of life today in Singapore is we all live online 24/7.
It's therefore essential that a business's site in Singapore is continually live and that means super reliable uptime.
And with DreamHost you get a 100% uptime guarantee with their shared hosting plan, (So rare for a web hosting provider to say this) meaning your site is always live so you can maximize every visitors experience.
Backing up this awesome trust is the super-performance of their Singapore web hosting plans.
DreamHost is excellent at handling increasing traffic numbers to your site, so you can feel confident that DreamHost can accommodate the growth of your site and does automatic daily backups.
Backing this up is also excellent response times. To top this all off, these are even entry-level plans, not only premium.
With the Dreamhost Starter Hosting Plan, you can get your first website or online store LIVE for as little as $3.51 SGD ($2.59 USD).
This is for a single website or e-commerce store with unmetered or unlimited bandwidth and storage.
If you want to pay a bit more you can get the Shared Unlimited Plan, which comes in at $5.35 SGD per month, this time with unlimited websites allowed on your hosting account (a maximum of 10 from experience).
eASEAN Criteria For Dreamhost Singapore
Reliability
Industry-defining trust – Every second counts, and entrepreneurs and business owners in Singapore cannot afford to be online even for a second.
With DreamHost's category unique 100% uptime guarantee, you can feel safe in the knowledge that your site is always live and ready for that all-important converting traffic.
Dreamhost has gone further with this guarantee than any other hosting providers… just to prove how much they believe in it… for every 1 hour that your site is offline, they'll credit you a day of hosting. Honestly, there is nothing else like it in this marketplace.
Performance
Competitive plans which perform – Dreamhost pack even their entry-level plans with awesome features including free domain/unlimited traffic /fast SSD storage disk space as well as their new WP Builder (it must be said that their entry-level plan does not offer email).
As mentioned above, it's Dreamhost's load time and their ability to handle lots of traffic and website data to your new website while maintaining strong response times which makes them really stand out from the pack.
This means customers are less likely to bounce and more likely to stick around and hopefully convert. Finally, complimenting this is real ease in terms of use and support in helping your good website grow.
Trusted Brand – The customers speak for themselves – With over 400K customers, 100k sites, and multiple awards, DreamHost is one of the most respected and trusted providers in the market today.
Every DreamHost Plan comes with a free SSL Certificate, daily backs up, firewalls, and domain privacy. As well this it's very easy to add any additional security software your growing site might require.
Price
Competitive prices with crazy guarantees – Plans are very competitive, with some of the lowest level entry plans in the market, but where others have minimized in terms of features (so as to keep their prices low) Dreamhost packages are performatively strong.
Plans are also month by month, so you can pay as you go. And finally, unseen elsewhere, is their crazy 99 day money back guarantee. With this offer, you get a real sense of how confident they are in their product.
Customer Support
Customer Support needs to complement the rest of its offering – Dreamhost offers the usual online support in terms of literature, forums, and social.
They also offer 24/7 live chat, however, we're not 100% sure it's 24 7 support as we had to wait a long time for some responses.
Also, the live chat is not the easiest to use… as they try to filter you through selected problems/questions. They don't offer telephone support and it's not Singapore-based.
If they can sort out their customer support Dreamhost will be up there as the best offering in the market.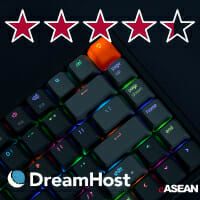 Why DreamHost Is Best For Reliability
DreamHost website hosting has a 100% uptime guarantee, need I say more? Add to that, their business hosting packages have epic performance even at entry-level, and you can feel safe and secure knowing that your site is up and live, being visited by your potential customers.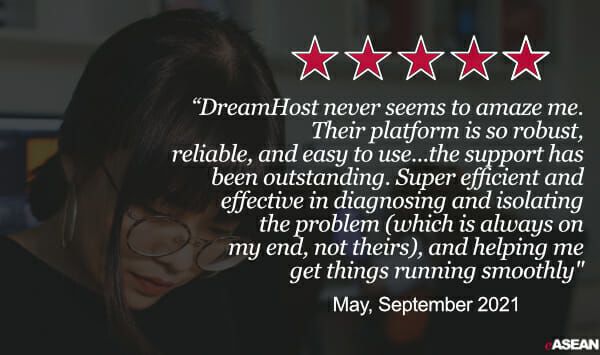 Where DreamHost Falls Down – Customer Support Can Be Unreliable
While we're massive fans of DreamHost's hosting services, it does fall down in its customer support. It doesn't have a team based in Singapore or their data center, and it doesn't offer telephone support and its 24/7 live support is not always the most reliable.
eASEAN Score For DreamHost – A Great Web Host
DreamHost scores a very good 4.2/5, and while you may think this is quite low, it's not. As mentioned before, their support isn't top-notch…
BUT, if you are pretty good on your own and don't have issues reading through documentation to help sort out your issues then DreamHost is very very good indeed.
Their data centers server location could also be an issue if your customers are predominantly in Singapore, due to the speed of data transfer between your customers and the server.


HostGator – Best For A Scaling Business in SG
If your business and in particular your web presence is growing to the next level, this is the provider for you. With over 2m websites, 30% of which are web pros, they have taken their feedback to create plans:
Perfect for professionals, who work hard,
Packed with additional features essential for scaling a business
And with a 45 day money back guarantee.
Basic performance is also really strong with both site loading and uptime scoring really well.
As well as offering free domain transfer (from the previous hosting provider) the support team can easily upgrade their hosting solutions and adjust your plan to suit your site's growing requirements.
Enhancing this is one of the easiest to use backend CPanels which can be tailored to your bespoke requirements.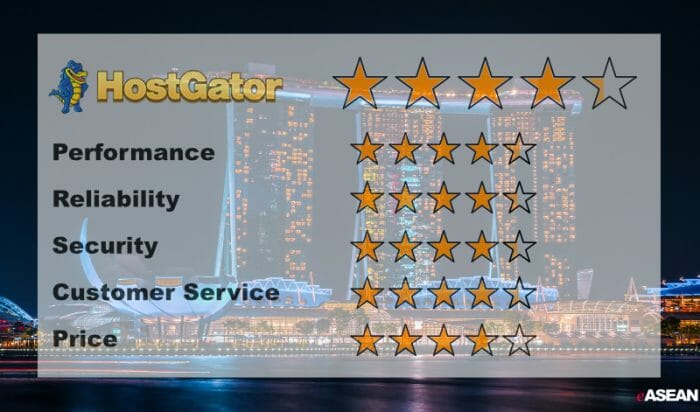 eASEAN Criteria For HostGator Web Hosting In Singapore
Packages
Perfect For Scaling – Excellent load times backup plans perfect for scaling. With the recommended Baby Plan ($3.50 per month) you get unlimited bandwidth and unlimited websites, (so you can expand your budding internet business empire).
You also get free email (many competitors have an additional cost if you want to email), unmetered bandwidth and disk space storage, as well as some great bonus ad coupons to get your brand advertising started)
Excellent Uptime
Additional features and advertising coupons are all well and good, but if you're hosting provider has poor uptime (or your site suffers from a lot of downtimes as a result) it won't matter as your customers will have nothing to access.
Luckily they are a very reliable provider, with a 99.9% uptime guarantee, if for some reason, your site suffers uptime below this number, they will give you a month of free hosting.
Security
Industry-level protection – Protecting your growing business could be the most important aspect when you're looking to scale your site.
Unfortunately, growth or success will garner unwanted attention, so having proper web security to protect your site and your customer's details is essential.
They have a custom firewall rule, a large mod security rule protecting your site from multiple attack types. Also, their data center has network-level flood protection.
As well as the protections listed above, it's very easy to integrate your own additional security measures.
Customer Support
Knowledgeable and fast responses across all comms vehicles – Hostgator employs a team of knowledgeable tech support staff.
We have tested the different elements with their support network and be it on the phone/live chat/ social or forums you will get fast and insightful responses that simplify your problem and get your issue sorted in no time.
Price
Watch their upselling, you could be stuck with a 3-yr plan – They offer monthly plans and a 45-day money-back guarantee, but their plans across the board are more expensive than most in the category.
The main issue we had with pricing is their aggressive upselling to premium packages, as they try to push long-term commitment.
Be careful when choosing your pricing, as a default, they go straight through to a 3-year commitment plan, you can, of course, modify this, but be careful as many people have not and as a result have committed longer than they expected.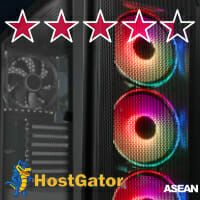 Why HostGator Is Best For Scaling Your Empire
If you are expecting to see lots of visitors to your website over a short period of time, and want to be able to grow your hosting as your visitors grow, then this is the provider for you.
Everything they do within their hosting plans (even their unlimited bandwidth) is tiered to help bring you from their smallest plans to their largest.
They know that as you grow if they provide the easiest way for you to do it, they will get your continued business, a well-thought-out strategy for good Lifetime customer value.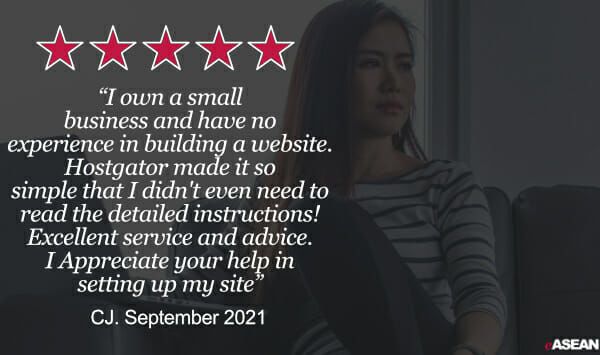 Where HostGator Falls Down – More Expensive Than Rivals
Their hosting plans for Singapore are (even on an entry-level) more expensive than a lot of other providers. But more than the inflated costs, their biggest weakness is their aggressive upselling…
When going through to purchase your plans, they will always default to 3-year plans, so unless you are 100% sure you want to commit to a 3-year plan you will need to keep an eye on the payment options.
eASEAN Score For HostGator Web Hosting
They get a respectable 4.3/5 for web hosting in Singapore. Reasons that they fall below the 4.5 marks are because of the pricing structure, and also the aggressive selling.
If you can handle these things, then this is a cool hosting service for your Singaporean Business.


EXTRA #6: Vodien Local Singaporean Company Hosting
Vodien web hosting in Singapore gets a mention here as a great solution, for a web hosting service based in Singapore.
From a shared to managed web hosting plan – almost every package is quite good.

Where Vodien Falls Down – Customer Support Not Great
The reason they are not mentioned in the top 5 Singapore web hosting sites is that they have a bit of a bad reputation for their support team – a big no-no for hosting companies.
While I have not used Vodien PTE Ltd hosting services myself personally, friends and peers have, and this web hosts customer service support team could do with a swift kick for timeliness when answering support tickets…
But once they get to the act of replying things get sorted out very quickly. So, if customer service is a big priority make sure you have a good think about it.
Also, Vodien's hosting plans are expensive. The only reason that you might like to use the above one of the previous is that they have really good site speed which is needed for your Singapore website for obvious reasons.
Starting Price: $10.50/month (no discount, it will be renewed price as well)


Our Top Pick Based On Our 5 Point Criteria
So, that's it, we kept this Singapore web hosting review top picks very short and to the point about the best web hosting in Singapore, and for a good reason.
The important thing to note is every single one of these web hosting companies is a winner, so the choice is up to you.
Our Personal Favorite – Maybe Yours Too?
My personal favorite shared hosting is A2 Hosting services, but then again, end users love Bluehost, as it is a great hosting company too, just make sure you are happy, pick the one place that sounds right to you and you are good to go.
If you are unsure how hosting actually works, then make sure you check our article here.
So let me know your thoughts on these hosting reviews, which web hosting company did you pick because everyone needs different key features and can be highly dependent on your specific needs.
Or maybe you are looking at a virtual private server, perhaps even cloud hosting. If you need help picking the best ones, or more information, let us know in the comments below.
Please refer to our FAQ below which covers the most often asked questions we receive from our clients regarding this service.
FAQ – Frequently Asked Questions
What is the cheapest plan and best hosting service?
While Hostinger is the cheapest web hosting solution starting at $0.99 cents per month, it is really not the best web hosting Singapore has to offer, especially if you have a few more dollars to spare.
If you can spend an extra $2 per month, then the $2.99 Bluehost hosting plan is a far better option for you.
What is the best hosting for your website?
If you really want great web hosting in Singapore that stays relatively low priced then I recommend getting Turbo Hosting from A2 Hosting, it is Up To 20X Faster than regular domain hosting, which means that your website loads super fast, and Google loves it.
Plus, it is specifically created with WordPress users in mind, so it is optimized to ensure the best performance for your website while keeping your web host's costs low and good value. There are so many great hosting companies that you can avail of.
What kind of web hosting do I need?
It all depends on what it is you are looking to do with your website, there are a wide variety of options. If you are just looking to get your first website up and running, then I recommend looking at something like cheap shared hosting, which enables you to keep costs low and still host a website with good performance. The Hostinger company offers the cheapest plan available, almost next to free hosting, a nice web host for personal sites.
If you are looking to run a podcast then looking at something like Amazon AWS might be a great option. If you are more intensive, maybe cloud hosting.
If you are looking for e-commerce websites, then a platform like Shopify would be your best option.
What is a CPanel in hosting?
Basically, a cPanel is like a control panel for your web hosting which enables your to look after and manage all of the details of your domain hosting account, without having to know any code. Popular Scripts include WordPress Joomla, Dolphin, Laravel, plus a whole host of others.
It gives your web hosts an easy-to-use interface that you can use to create WordPress, Joomla, and a lot of other websites easily, do a daily back plus much more at the touch of a 1 click button, and set up email addresses for your websites too.
How many websites can my hosting handle?
Your web host, depending on the plan can handle multiple sites. Most of the packages that are available (apart from single-site plans) have unlimited disk space as one of their key features. For Singapore websites, this means you can have numerous websites in this unlimited disk space. BUT… you should really only stick to 10 at most.
What Is A Domain Name In Hosting?
Domain names are the names of your website. With some web hosts you can get your domain registration free, while others you have to pay, but, you can have unlimited domains inside of your unlimited storage hosting.
What Is The Best WordPress Hosting?
That is a great question, and many would say that managed WordPress hosting is the best, but it does come at a price. If you want to keep things cheap, A2 and Blue Host offer a full range of plans, but if you are set on managed WordPress hosting, using someone with fully managed services like WPEngine is a great idea.
Do you get unlimited email accounts with your hosting?
No, not all companies give you unlimited email accounts, let alone any email hosting at all. Unlimited email accounts only come with a select few, but there are ways to create more email accounts inside the Cpanel. So, in a sense, yes, you can have unlimited email accounts with your hosting, just not with the ease of use.
What different types of hosting are there?
There are many different types of hosting, we will start with dedicated hosting:
Dedicated server hosting – this is when you actually are on a dedicated hosting single server for your own business, with your own dedicated IP address and mapping domain name system. Dedicated hosting is for companies that have a big web presence, high traffic, potential global reach, and need to be highly dependant on their own software.
Cloud web hosting – Cloud hosting makes your website available using cloud servers. Unlike normal traditional hosting, your cloud servers are all over the world, meaning your website is broken into loads of pieces in cloud data centres to enable it to be grabbed really quickly no matter where your visitor is from.
The cloud infrastructures, including the likes of Google Cloud, ensure greater flexibility and scalability. there is also the option of managed cloud servers, if the idea of looking after everything yourself is not ideal.
Virtual Private Servers – These are similar to dedicated server hosting, in that you actually get your own dedicated IP address, but VPS and hosting is shared on a virtualization server with other users. You still get root access, the same as dedicated hosting.
Reseller Hosting – Reseller hosting is when you actually rent out your shared hosting services to your customers, from a bigger hosting company. You simply act as an administrator of a bigger hosting package in reseller hosting, where you can market them as your own high-speed branded servers.
What is SSL In Shared Hosting?
SSL stands for Secure Sockets Layer, a security protocol that is used to create an encrypt SSL link between a web server and a web browser. Needed for secure online transactions and privacy.