The ASEAN is the 3rd largest population in the world, where internet connectivity is increasingly getting popular, so what do we have to look forward to for the future of eCommerce in ASEAN?.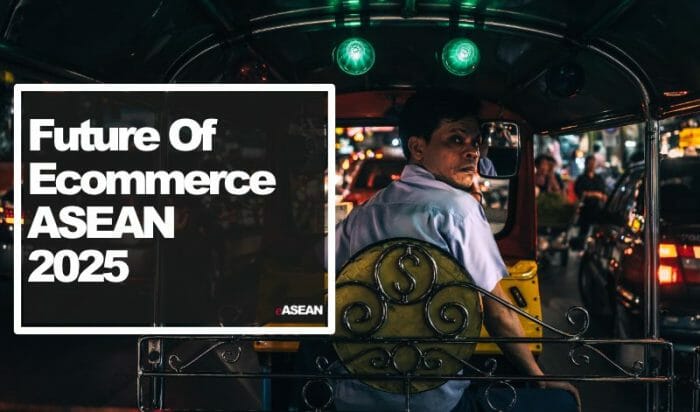 With the rise of internet connections and the ASEAN digital integration framework being put in place, The ASEAN is fast becoming a very important market of interest for eCommerce.
In the eCommerce world of Southeast Asian nations, both new and established eCommerce retailers are grabbing all the benefits they can.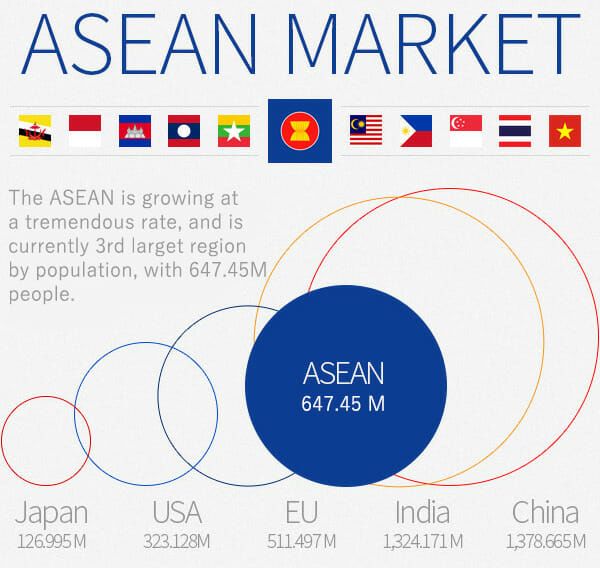 Like premade templates from the wonderful guys over at Shopify which help your new store look professional with a few clicks.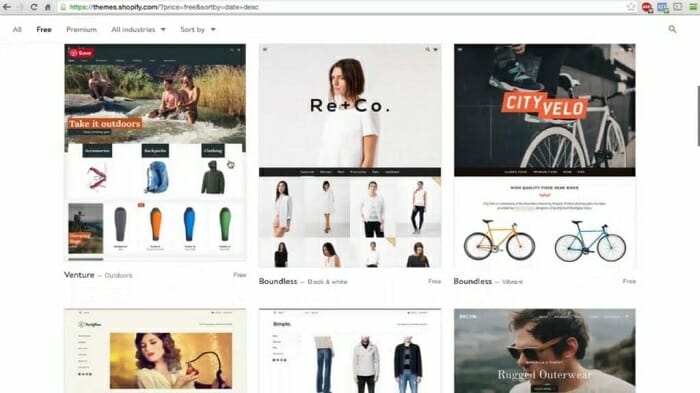 Many small business owners are also trying to establish their own business on the internet, and it makes sense 100%, seeing now that the ease of ecommerce store creation in the ASEAN is simpler than ever using something like Shopify.
iPrice Group's 2017 State of eCommerce report stated – In 2015, the eCommerce transactions surpassed 5 billion dollars.
Your store doesn't have to be like iPrice, or Lazada, you want to be focusing on your niche.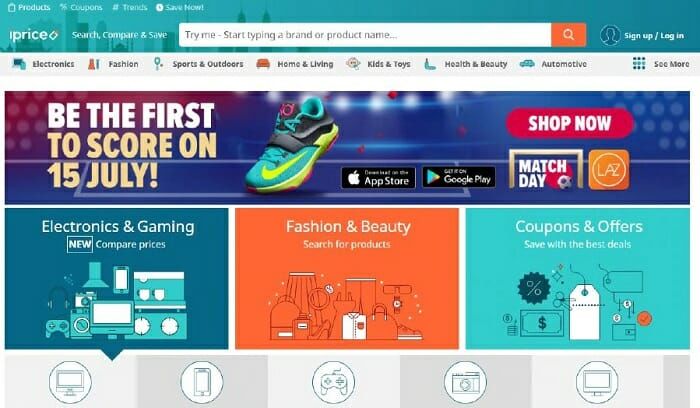 After 5 years, the eCommerce transactions are predicted to exceeded almost 10 billion dollars.
By 2025, the eCommerce transactions of the Southeast Asian Nations is expected to have massive growth upwards of 88 billion dollars, which is conservative in my estimation.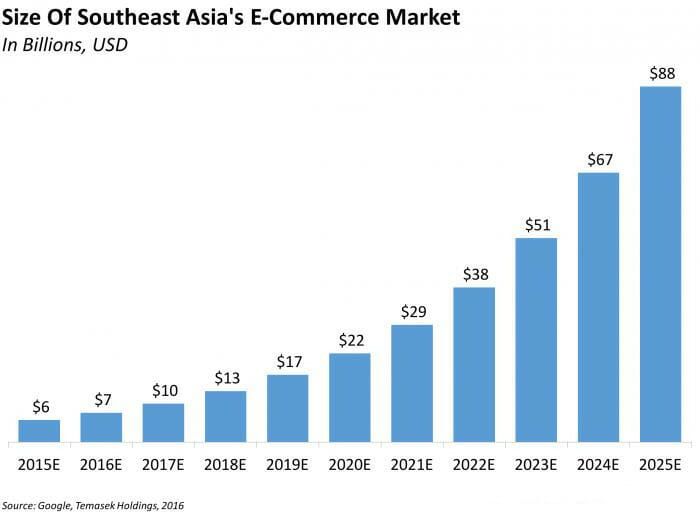 Apart from transactional values of e-commerce, a lot of things are going on in the market.
Let's look at the inner part of the what is going on and how the future of ecommerce in ASEAN is set for explosion.
Size of the ASEAN eCommerce Market
There are 10 countries within the ASEAN territory. But still, only 6 countries have most of the internet users, now by the time 2025 comes around things could have seriously shaken up.
As the old saying goes…
The only thing we are certain of, is uncertainty!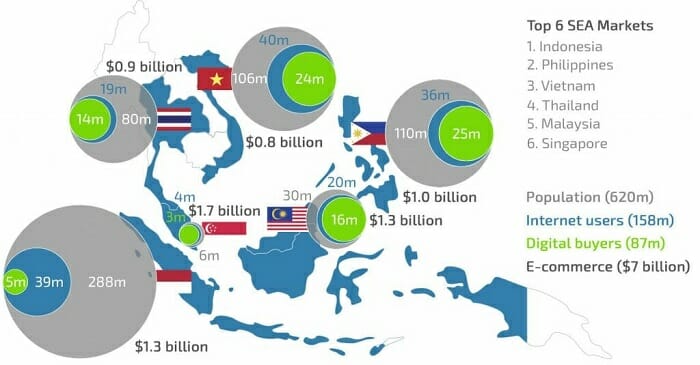 Statistics indicate that the ASEAN-6 countries will reach to 483 million internet users by 2020.
Such a huge number of internet users clearly depicts that there's a huge untapped market.
Future Small ASEAN eCommerce Business Owners Will Become Smart
Back before the ASEAN Digital Integration Framework, small business owners used to sell products through offline promotion.
After this wonderful ASEAN initiative, more and more have appeared in the eCommerce section of the digital world.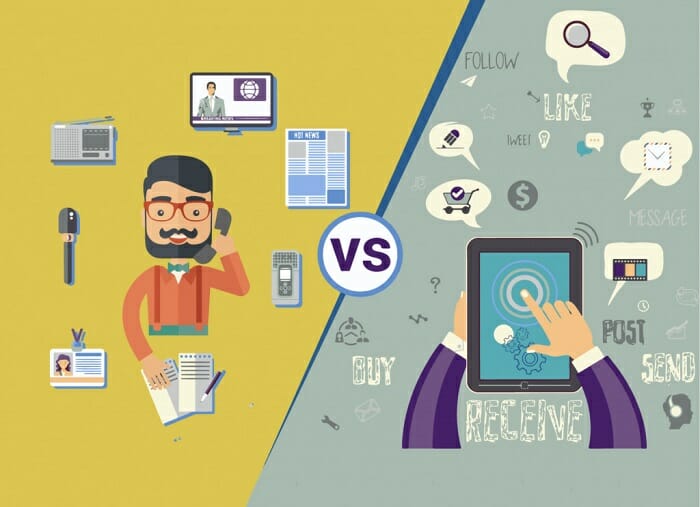 It was normally pretty simple:
Setting up a few ad campaigns and a store was enough for them, at the beginning.
But,
Now, those who want to succeed, know that they have to become smart and start using things like:
tracking,
managing,
and collecting information in the real-time.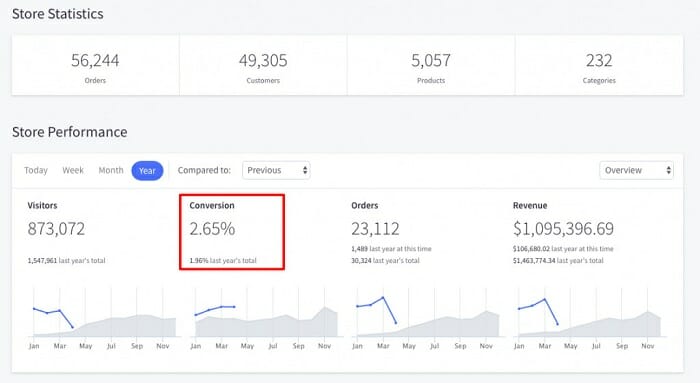 Understanding how many visitors are simply not enough. Visitors that turn into buyers is a better way to look at things, and this is called the Conversion rate.
eCommerce Conversion Rate Example:
If we have 100 visitors to the store and we make 10 sales, then this is a 10% conversion rate.
Even today, most of the ASEAN eCommerce marketers (and also international ones) aren't utilizing data correctly.
If you do have the desire to build an eCommerce business in the ASEAN, then here's your 1st loophole to beat the competition.
Loophole #1:
Learn to utilize data & analytics well, and the sales will be all yours.
The future of eCommerce in ASEAN begins with Analytics, and the best one to get started with for this loophole is Google Analytics.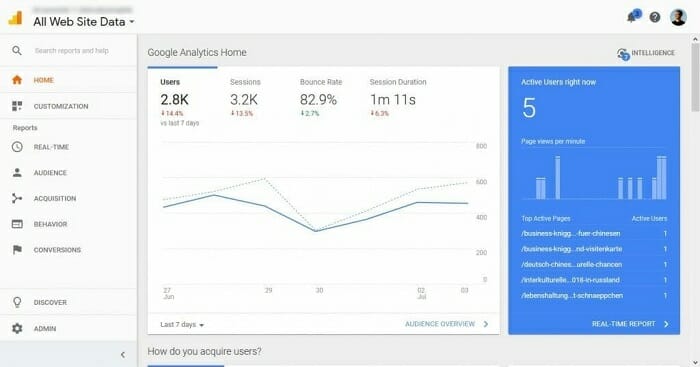 Business Owners Will Hustle to Gain Influence on Social Media
Almost 90 percent of the ASEAN population gain access to the internet through their mobile phones, meaning that a mobile strategy needs to be implemented for businesses looking to succeed in the future of eCommerce in ASEAN.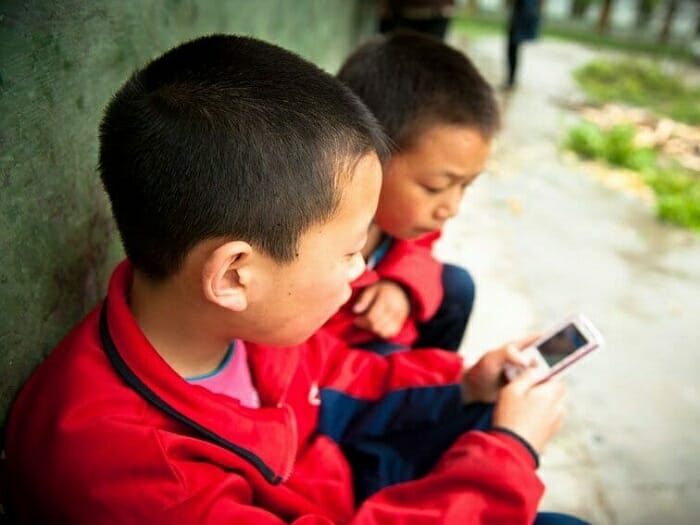 If we look at mobile usage globally, we get to know that in 2019, 67.2 percent of customers bought online using their smartphones, which is huge. WOW!
And…
That figure of smartphone customers may increase by 5.7 percent by the time it reaches 2021.
Now, this is known in ASEAN eCommerce market.
Most of the new-born Southeast Asian businesses are working hard to establish their own Facebook groups and pages, Pinterest boards, and Instagram profiles.
eCommerce on Facebook is Growing
Facebook realizes how big the global market is for them and are doing everything they can to make the facilitation of eCommerce easy for everyone, just look at the new Facebook Libra Coin that they are releasing.
Is it the future of money?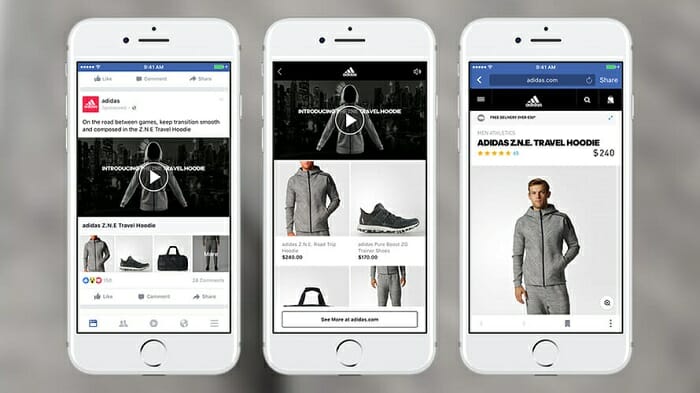 Instagram eCommerce Mobile Features
In addition, few companies have even enabled the shopping feature in their social media channels to make the purchasing process easier for new users, a prime example being Instagram, as you can see in the images below.
And even Pinterest with thier Buy Buttons, a great move.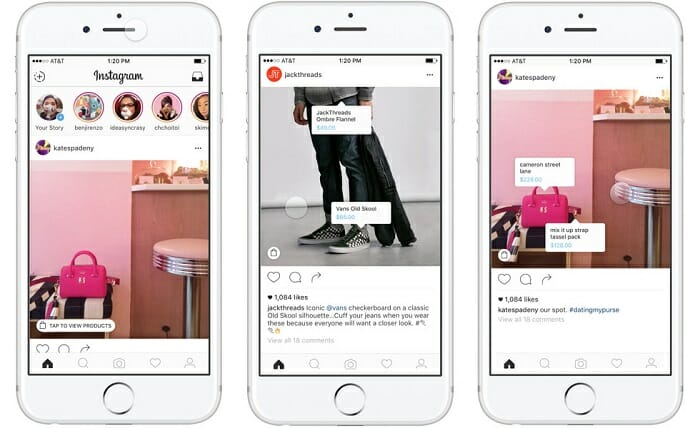 This implies that in the future, more companies are going to take over social media channels to run their business.
Pinterest Buy Buttons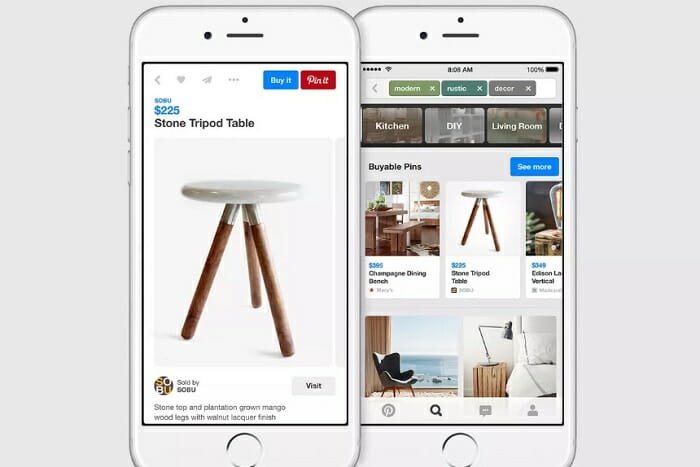 Who is Going to Be a Big Player in the Future of eCommerce in ASEAN?
Maybe you can be? I don't see why not, let me give you some solid advice here:
Before putting too much of our own effort into this SEA e-Commerce market we must first find out who are the top competitors in the ASEAN Region.
It helps us to borrow and adapt strategies from our best competitors.
If you feel bad about taking other peoples ideas, don't.
You can mix up your own strategies with their strategies (if you have any) to get the most out of the market.
It's that simple, it's pretty hard to patent a strategy, so you are good to go.
At present, Shopee and Lazada, both are heating up the eCommerce game. Well, they are massive.
And looking at their mobile operations and way they entice users is a great way to get ideas for your own ASEAN eCommerce Empire.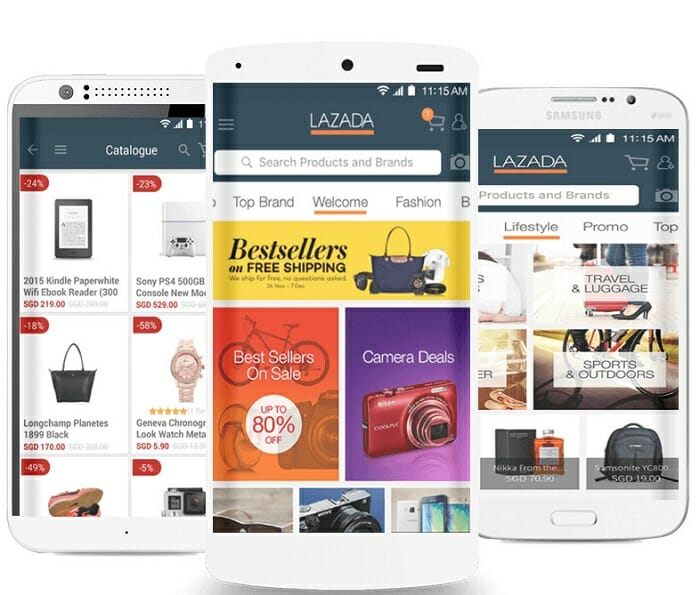 In the 1st and 4th quarter of 2019, Shopee performed well and even reduced Lazada's lead by 62%, a big move.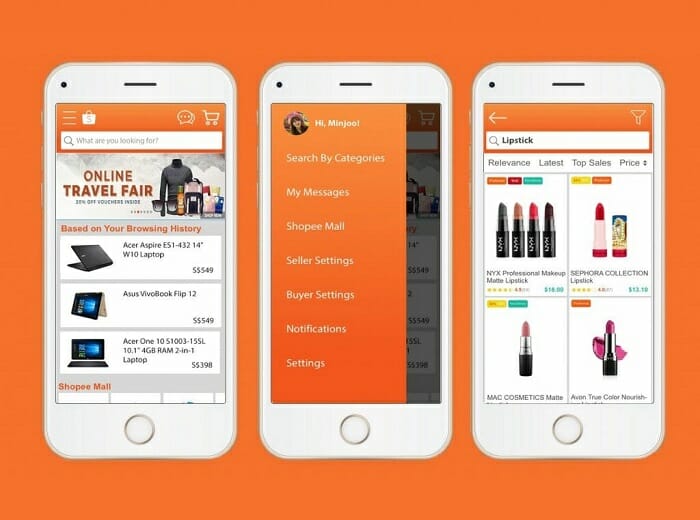 The current condition of the ASEAN eCommerce market maybe hints to Shopee dominating the game in the upcoming years.
Future Southeast Asian eMarketplaces Will Differentiate Based on Their Service
It doesn't matter whether it's Lazada, Shopee, JD, or Qoo10, everyone has a fully controlled supply chain.
Having a fully controlled supply chain is a key factor for the success of an eCommerce business.
NOTE: If you are not looking to compete on the level of Lazada and Shopee there are many routes for you to take where you can build your own e-commerce empire, using what these ecom giants have already built to thrive in the new ASEAN eCommerce market.
The development of the supply chain allows eCommerce marketers, both from the ASEAN region and abroad to upgrade their technology and services.
And once the technology and services of a company get better, customers roll in.
In Singapore, Qoo10 is about to launch its own blockchain based eCommerce site QuuBee.
ASEAN Blockchain Technology in eCommerce
QueeBee
QuuBee's blockchain technology will help Qoo10 terminate the listing and transaction fee to reduce the retailer's tax.
As a result, the retailer will earn more profit, and the market will become more sustainable.
If you want to see immense positive results in your sales dashboard, you should put emphasis on building up a robust supply chain for your eCommerce business.
Supply Chain Management: Coordinating, scheduling and controlling procurement, production, inventories, and deliveries of products and services to customers.
And:
Here's the 2nd loophole for embracing the future of ecommerce in ASEAN.
Leverage User Generated Content and Reviews
Emarketplaces in ASEAN are trying hard to build such add-ons that allow users to comment and review products.
But when you get this tastic implemented, it is a sales force all on its own, just look at the success of Amazon.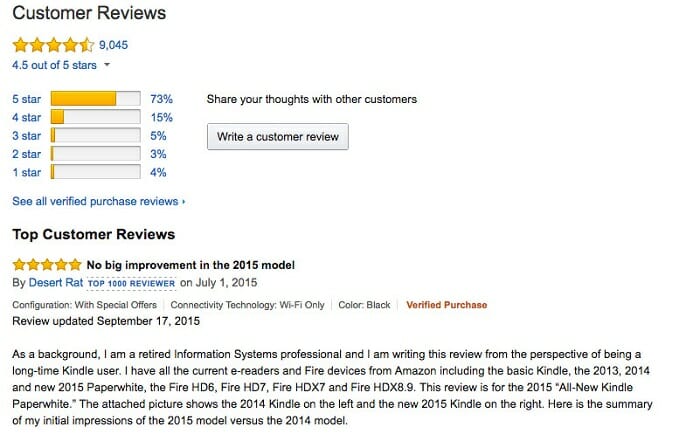 According to Spiegel Research Center, more than 90% of people read reviews before purchasing a particular product online.
Do you know the same research center also claimed that the reviews can increase the conversion rates from 190% to 380% based on pricing category?
That's pretty impressive, and as a digital marketer where the smallest change can make big results, I'm happy to hear this.
OBVIOUSLY: The review should be positive enough to drive sales. Please note that negative reviews can reduce your sales.
In order to get the best reviews, you should provide the best user experience, product, and price.
And yes, when it comes to reviews, products play a very crucial role. So, I recommend you to be selective while choosing products.
Loophole #2:
Leverage user-generated content and reviews to increase sales and conversion rate.
Be as Fast as Amazon
Amazon has won customers' hearts on one element by creating a super fast delivery experience.
Ask yourself, "Have I ever cursed any online eCommerce store for delaying my shipment?"
Of course, you have!
Look! Here's the 3rd loophole.
In The ASEAN, customers are now demanding faster delivery compared to even last year.

Not only that but around 1/5 of shoppers have abandoned their carts online because the product they requested wasn't delivered on the same day. Wow, great stat there, one that you need to take advantage of.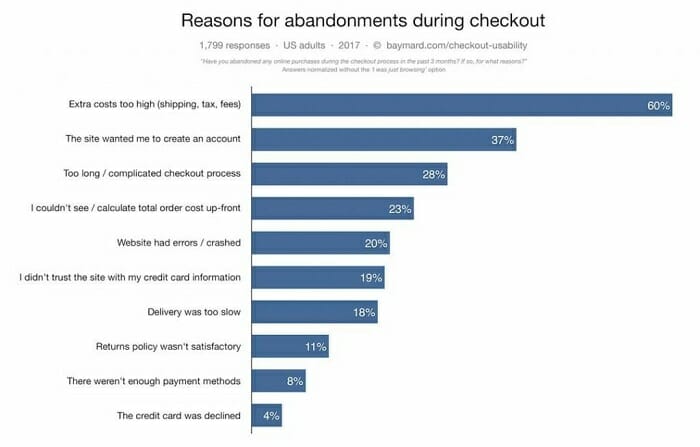 By 2025, delivery time demands will definitely rise, but also will your delivery and logistics infrastructure, but you should already be preparing yourself to deliver products faster.
You can even charge extra for faster delivery alternatives like Amazon do.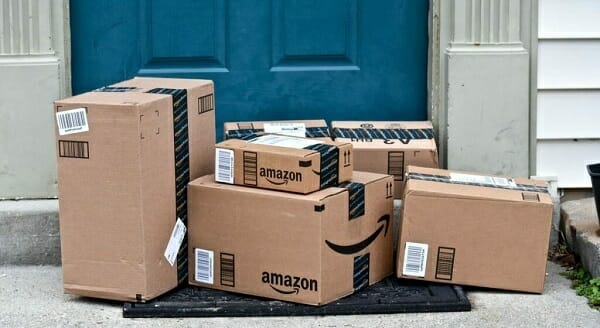 Apart from this, if delivery gets delayed for some reason, you can provide discounts instead of a sorry to make the customer experience better.
Loophole #3
Get your delivery times on point, because if you do, it goes a long way in helping you convert those sales.
Are You Ready to Scrape the Goldmine?
The ASEAN eCommerce market is a real goldmine where the competition is getting stiffer day by day. If you don't jump right now, you may regret later.
I've given you 3 factual loopholes in this post to make you stand apart in the market.
What are you waiting for?
Take what I have told you and utilize those loopholes ASAP. Tunnel, grab and scrape the goldmine for as long as you want. The game has just begun.