DreamHost is the perfect VPS Hosting provider here in Singapore for the performance web-professional type customers. You're not new to this game, you're probably an eCommerce veteran, you know your way around a website and you know what you want from your VPS hosting packages.
More than likely you will have a high-end operation made up of multiple high traffic, content-rich, task-heavy sites which demand high-end performance from your web hosting services. If this is the case let's get into this Dreamhost VPS Review for Singapore and see if it is the right web host provider for you.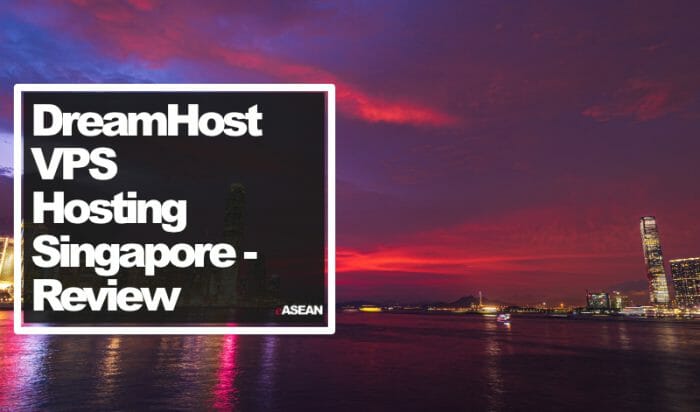 DreamHost plans are priced at the higher end of the spectrum because their plans are packed with premium professional features (high performance and awesome customer service) essential for operating high-end sites, unlimited bandwidth, and traffic and expandable RAM and storage.
With plans ranging from $10 to $70 per month, as a professional, you'll know that they offer awesome value for money… (when considering all the features which we will run through below) also (and very importantly) their plans are priced closer to that of Unmanaged VPS Hosting.
If you are looking for a breakdown of the top 5 VPS Hosting Services in Singapore, with companies like HostGator and other providers good for blogging, you can view it here.
Managed VPS Hosting
All DreamHost virtual private server plans are Managed Plans, meaning a hassle-free hosting package that allows you to focus on other (profit-making) areas of the business. But don't worry, you will still have all the flexibility of unmanaged plans… with the ability to add bespoke security software, etc, the process will just be managed by the awesome team over at DreamHost.
You will have all the performance benefits of a private server (almost like dedicated hosting) without worrying about the maintenance, integrations, and optimization of the server… this will be looked after by the high-end super-knowledgeable professional hosting team at DreamHost.
DreamHost Managed Plans do not offer root access or admin rights, because the web host team wants to keep the servers at their highest level, but if you're still after root access you should check out their cloud hosting plans.
To help you make sure you are picking the best web hosting services our team does a thorough deep dive of DreamHost's VPS hosting plans, analyzing:
Performance: what do they offer in terms of hardware/features and reliability,
Ease of Use: how easy is it to migrate & set up, are their panels easy to use, do they offer developer or web-builder solutions?
Security: what protocols and protections are in place?
Customer Service: where and how often can you access the team, how knowledgeable and helpful are they when you communicate with them?
Price: what are their range of prices, and are they good value for what they cost? How long is the duration of contracts and do they offer a money-back guarantee?
And at the end of the article, we will give you our top picks, and give you a few links you can click if Dreamhost is the right company to get your virtual private servers with.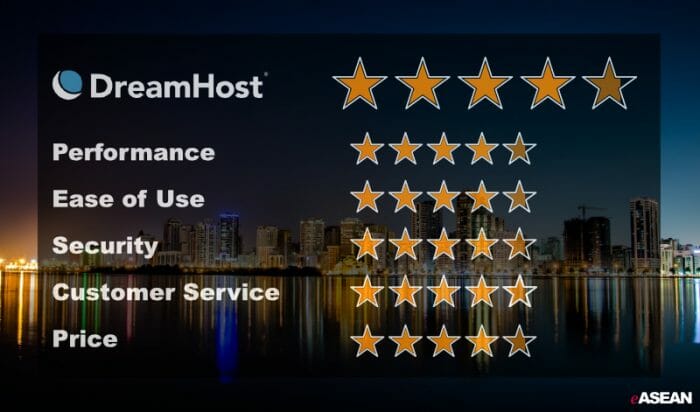 Performance
As you would imagine DreamHost VPS packages offer their users awesome performance, super-fast load time powered by the latest in server technology (tailored to your site's requirements), industry-leading reliability, and every feature a professional operation needs.
Server
You have a choice of 2 server types; Apache or Nginx. The main difference between the two server types is their design architecture; Apache uses a process-driven approach meaning it opens a new thread for every task, while Nginx uses an event-driven architecture and it can handle multiple requests within one thread.
The Apache HTTP Server (to give it its full name) is the most popular server in the world. The Apache is developed and maintained by the Apache Software Foundation community of developers.
Because it's older and the most popular Apache can handle a lot more configurations than Nginx. But because of Nginx's event architecture, it can handle a lot more tasks meaning it accelerates content and application delivery. The team over at DreamHost will run through this with you, and do an analysis of your site so as to help you choose the correct server for your operation.
CPU
Each plan comes with 4 Cores, so even at entry-level, you're getting an awesome amount of processing power.
SSD
All plans come with SSD Storage offering 200% faster performance than older HDD storage. Plans offer 30GB to 240GB SSD Storage. For a high-performing site, we would recommend 100GB+ SSD, so two of their plans are just perfect.
RAM
Plans offer 1GB up to 8GB of random access memory, RAM Looks after temporary data… scripts used to perform basic tasks, so the busier you are the more you will need. For high traffic, task heavy sites you should be looking for at least 4GB RAM (which two of their plans offer)
Features
Dreamhost packs their plans with lots of features that professional will know how to use (they could be a bit wasted on a VPS newbie).
Sites: Unlimited sites, so if you have 50+ sites they will have them all set up for you,
Traffic: there's no cap on your traffic, unlimited traffic is essential for businesses with a lot of high-traffic sites,
Emails: unlimited emails on all plans,
SSL certificates: all plans come with free SSL Certs,
Unlimited data transfers,
Free marketing add-ons: including Google and Facebook ad coupons.
Reliability
100% uptime guarantee… that's a demonstration of confidence (everyone else offers a 99.9% uptime guarantee). In fact, they offer a day's free hosting for every 1 hour of downtime. That shows real knowing confidence in their product. From our testing, we found their uptime to hit 99.98% (joint best in the category) with most months hitting 100% uptime.
Ease Of Use
Migration
DreamHost offers free migration and set up on all plans, so once you're signed up, let them take over and start managing your hosting straight away.
Panels
Apparently, after years of experience and dissatisfaction with cPanel, Dreamhost decided to create their own panel… which does everything cPanel does, but (on a positive) it seems to be a little more intuitive than CPanel. As a nice bonus, the DreamHost Panel runs on a separate server, so it won't be taking up any of your resources on your server.
Website builder
Dreamhost offers a WordPress website builder, with 200+ starter websites that are pre-designed, pre-loaded with apps templates, meaning next-to-no building, just your own slight modifications.
Security
All plans are packed with a collection of awesome security features… including:
Their own purpose-built malware-remover, which will hunt out and eradicate any malware found on your site,
A complete suite of mod_security, which includes the industry-standard firewall for apache, as well as hundreds of rules and submit patches,
HTTP2 for all Nginx servers… as well as lua-resty-waf (again for Nginx) which is a web application firewall built-in openresty… it's an awesome piece of software that can handle hundreds of thousands of requests per second,
Let's encrypt, free SSL and TLS Certs,
Free domain privacy (so no more details stored on a database).
Customer Service
They're an eclectic bunch over at DreamHost. Real Hosting professionals, love what they do, and they can wax lyrical about hosting for hours (if you're so inclined to listen to someone talking about hosting for hours)
Access
Because they offer managed plans, with the maintenance, upkeep, and optimization of the server performed by their team they feel it's not needed to offer phone support (although if you need it they can offer it for a small monthly fee). They do offer live chat, email, forum, social as well as probably the most comprehensive library of "hosting guides" available online. Because these plans are all managed, therefore all the complicated stuff is in the hands of DreamHost, and because of the quality of communication (which we will cover next), we don't feel that the lack of phone support is an issue.
Attitude
DreamHost prides itself on the quality of their staff, everyone there loves hosting, all staff are trained up to Tier II (as a minimum) and that's pretty high in itself. Many of their developers contribute code to different open source communities, and you will find them super active on all the forums too. So you can rest assured that your plan is being managed by the best in the business… and they're super friendly on live chat, a real pleasure to deal with.
Location
DreamHost is all US-based, while we prefer a local team, the team at DreamHost is active 24/7 and will be helping you sort your issues straight away.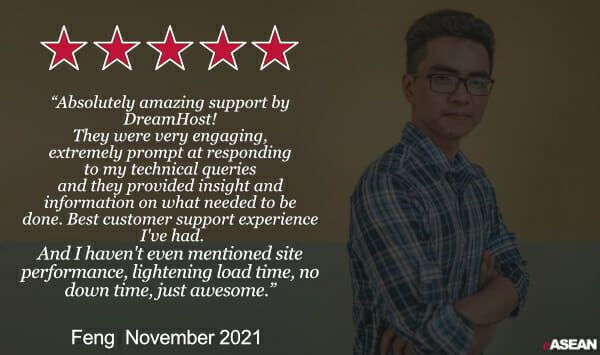 Price
Ranges
Four Plans… $10 / $20 / $40 & $80 (from basic to enterprise) Considering these are all managed, and looking at all the features you get, they offer real value for money. If you're not sure where to start and feel most comfortable with the basic package the team will help you scale up as when you want to.
Duration
You can pay Monthly, Yearly, or Tri-Annually. When going with the latter plans you will get up to 50% off compared to going with the monthly plan.
Money-Back Guarantee
With a 97-day money-back guarantee no one in the category can touch them. If that is not a demonstration of confidence in their offering I don't know what is. Just think about it, you can work with DreamHosting for over 3 months, work everything and test everything out, and if you're not happy you can cancel your contract.
What is the best Dreamhost VPS package for performance?
As we're recommending DreamHost VPS Hosting for professional who's looking for a web host that will actually help their sites perform we have to recommend the VPS Professional Plan because in their own words its:
"for resource-intensive sites" so if you're high traffic, content-rich, task heavy site owner this is the plan for you…
Run on either Apache or Nginx servers, it packs a serious punch with 120GB SSD storage, 4GB RAM,
As well as unlimited traffic, unlimited bandwidth and unlimited sites.
This VPS Hosting plan should help push your site's delivery to the next level.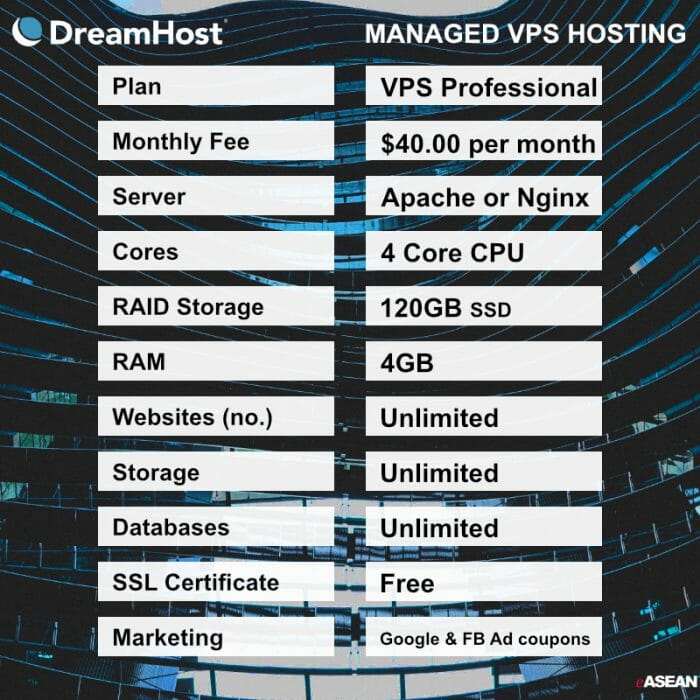 Our Dreamhost VPS Review Conclusion
There you have it, a really fantastic DreamHost VPS Review from the team here in Singapore, specifically for your SG Business. If you're an eCommerce or online professional, you've been in the game for a few years, and you realize that paying little extra results in a lot more performance and you're ready to get into VPS hosting (kick aside that shared hosting), look no further than Dreamhost, each plan is packed with the essential features a high-end site needs to perform to the max.