With more businesses migrating over to cloud hosting, and an abundance of cloud hosting providers (now over 600) on offer, which one do you choose?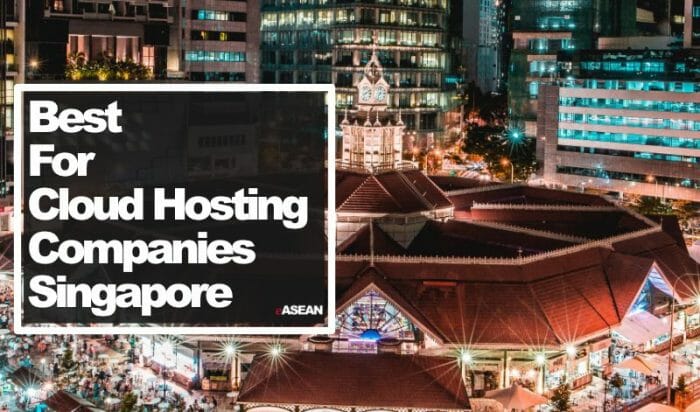 Our team has found studied and discarded most of the top 40 and brings you the best cloud hosting Singapore plans for your business.
Let's start this off with a bit of clarification, to know if you are on the right page: You are a business with a large site (or set of sites) with a lot of back-end resources that want to get a lot more from your hosting.
You might want more control,
Or the ability to use more backend resources,
Have greater ease to scale your online operations,
Or you're at that stage were optimum security is paramount to your site's progression.
Well if this sounds like you, we have the definitive list of cloud hosting plans in Singapore, so that you can choose the plan which best suits your business needs.
UPDATED: 10/27/2021
The Top 5 Cloud Hosting Plans For Singapore
Now while you can click on one of the links above and be brought to the respective reviews, if you are still a bit unsure if you need cloud hosting, we break that down for you below.
So cloud hosting is quite a chunk more expensive than shared hosting, is it worth it?
Cloud Hosting is not for every business
Cloud hosting is not for every business. If your online operation is smaller, and your web functionality is quite simple, the more cost-prohibitive shared plan is better for you.
But if your digital operation is larger scale, and you have a higher-end website, the defined block of resources offered by shared plans will be a problem for your growing online presence.
But what is the difference between the two?"
Why cloud hosting is better than shared
The main difference is organizational. Quite simply shared hosting means you share the server with multiple websites and as such you're vying for the resources of that server with other sites.
While with cloud hosting, the service exists in the cloud, or more precisely the hosting (of your site) is shared over multiple servers…
Meaning that the hosting company can bounce your site around the different servers as it adjusts to performance pressures. So if any problem arises (on any server) your site can easily be migrated around to other servers.
But why is this important, and why is this worth the additional cost?
It really is worth that bump in price, because Cloud hosting offers:
Greater Control: Shared-hosting provides limited space and power and you have to battle it out with the other sites on the shared server. Cloud-Hosting allows for a much more balanced load (and as a result greater control of all elements, like additional traffic) because of the synchronization of the different cloud servers.
Greater Resources: Traditional web-hosting services give website owners enough add-ons to get their site up and running. Cloud hosting providers give clients root access to the control panel and very importantly offer assistance if disaster recovery is needed.
Greater Scalability: With traditional hosting when it's time to scale, you have two options… change plan/change provider. With cloud-hosting scaling is a s easy as dragging a slider… you can add additional resources (RAM etc) in a matter of a click. And the distribution of the resources is carried out in an instant. With super flexible payment plans you only pay what you use.
Greater security: While web-hosting providers are excellent at providing security against malicious malware, cloud-hosting offer and additional layer of data protection by offering user the ability to build an additional firewall around the monitoring systems.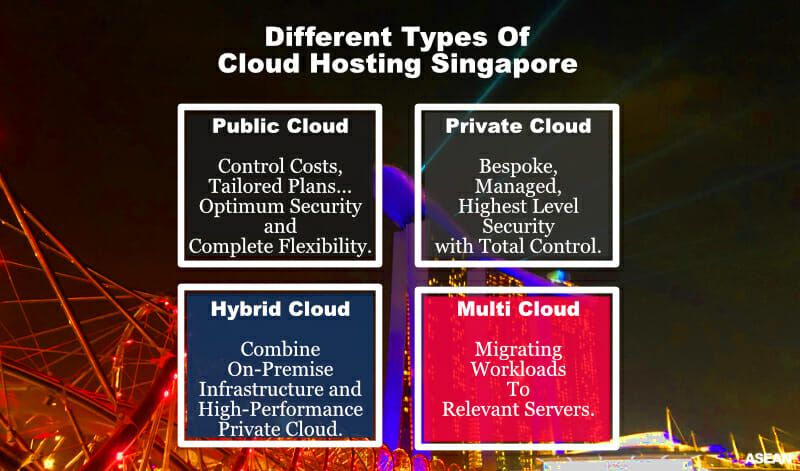 How eASEAN Evaluate Cloud Hosting Plans
There is a point when your online operation outgrows the limitations of shared hosting, and when you reach that point, you will know cloud hosting is the next step. But you will need certain criteria to evaluate the best plans. Here we have a 5 point checklist to evaluate the different cloud hosting plans…
Performance: You want the power and the control to fast-forward your business and maximize every customer opportunity.
Reliability: Cloud hosting is a lot more reliable than web-hosting. But which cloud-hosting synchronization is the most reliable?
Security: As your sites continue to grow they will come under greater attack, you need to feel safe in the knowledge that your cloud hosting provider is keeping your business as safe as possible.
Customer service: With added capability comes added potential to mess up. You need a strong support team to navigate you through any problem.
Price: We all know cloud-hosting comes at a premium to web-hosting packages, but that doesn't mean there aren't bargain to be had.

Hostgator – Best Overall Cloud Hosting For Singapore
As you'd expect with our best overall choice, Hostgator Cloud Hosting offers plans just spilling over with awesome features and additional performance like:
Turbocharged speed,
Tons of storage,
Low density servers,
Unlimited domains, and so much more…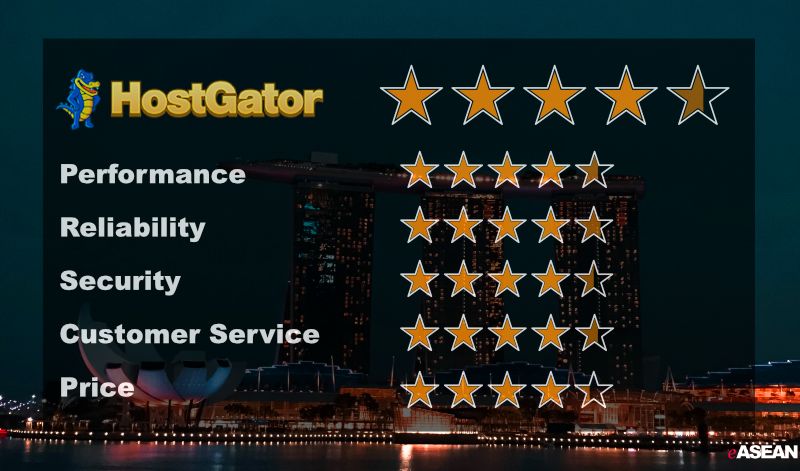 For Business owners serious about expanding
Your business and your sites have outgrown what shared hosting plans can offer, you want greater control, power, security, and reliability, but you want an uncomplicated easy service backed up by awesome customer service, then look no further than Hostgator.
They have made the cross-over to cloud and its ongoing maintenance as easy as possible without reducing the quality of its offering.
They are power-packed, fully-featured, resource-rich, and scalable cloud hosting all in the easiest set-up environment.
Their user interface is so easy to master you will be up and running in only 7 minutes.
eASEAN Criteria For Hostgator
Performance – Power / Resources and Freebies to get your flying – Why Hostgator? Turbocharged Hosting…when you mix low-density servers, premium hardware, and multiple caching layers, you get a site with 2x speed and 4x scalability. But it's not just about power, plans are packed with:
Data Mirroring,
Automated failover,
Resource management,
Intuitive dashboard,
Integrated caching.
And as always with Hostgator packages, their cloud hosting plans are packed with freebies like: Unlimited disk space and bandwidth, website builder, hundreds of website templates, free domain transfer, unlimited MySQL databases, and much much more.
Reliability – Near Perfect Reliability – As you would expect with cloud hosting: due to the nature of sharing your site hosting over multiple servers, reliability is awesome. With an uptime average of 99.995% and more months coming in at 100% you have near-flawless uptime. What more can we say?
Security – Triple-layered protection – Backing this up is their awesome data mirroring feature, where they automatically make 3 copies of data to ensure maximum security. As well as the awesome triple mirroring, Hostgator employs several other firewall security measures. Their data centers are also built using top-of-the-line technology and security protocols, and the servers are monitored 24/7/365 in a highly secure environment.
Customer Service – Great support makes the process even easier – First things first, Hostgator is super-easy to use, so perfect for anyone transitioning over from shared hosting. Their drag and drop website builder and the very familiar cPanel interface are easy to master, and as such make it as easy as possible to allocate resources whenever you experience a traffic spike.
As already mentioned you will set up in under 10 minutes, but if you feel you need help the excellent support team is happy to walk you through the setup over the phone. The team is available 24/7 via phone/live chat/email and tickets. Their team is very active on the forums but if you're not one to chat as you like to do things yourself you should check out their 'support portal" which is packed full of easy-to-follow tutorials.
Price – Not the cheapest but great value when you look at all the features – By this stage, you're aware that cloud hosting plans are more expensive than the shared hosting plans you're looking to migrate over from. Saying that, the plans don't and are not astronomically priced.
The three HostGator plans are very competitive within the category, not the cheapest, but because they are packed with features and freebies, they offer really good value. We're a big fan of their:
Baby Cloud Plan, starting at just $6.57 a month, we think it's one of the best value plans out there. Also, just in case you're a little nervous about the extra cost (and what cloud hosting offers) Hostgator off a massive 45-day money-back guarantee.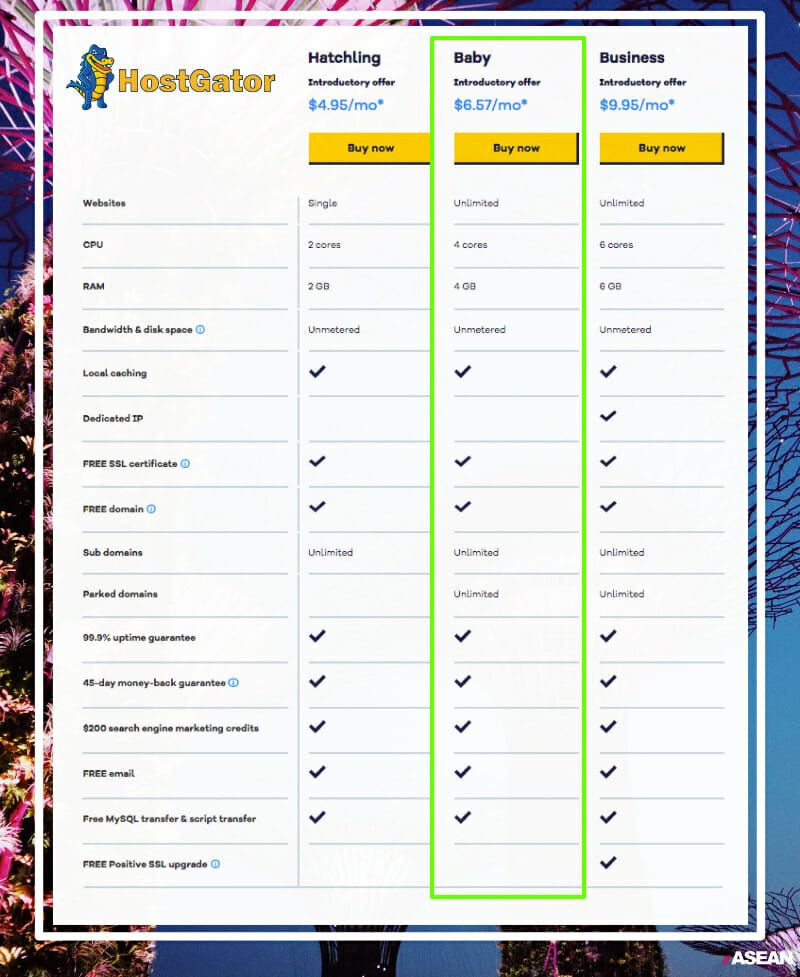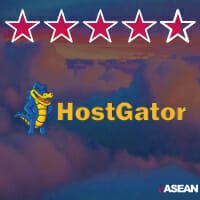 Why HostGator Is Best Overall Cloud Hosting Provider For Singapore
Hostgator is Packed with Features to fast forward your site enabling you to get started in just 7 minutes, it really is a hosting company for business owners serious about expanding. With near Perfect Reliability, triple-layered protection, and great support to help make the process even easier, while not the cheapest, it is great value when you look at all the features.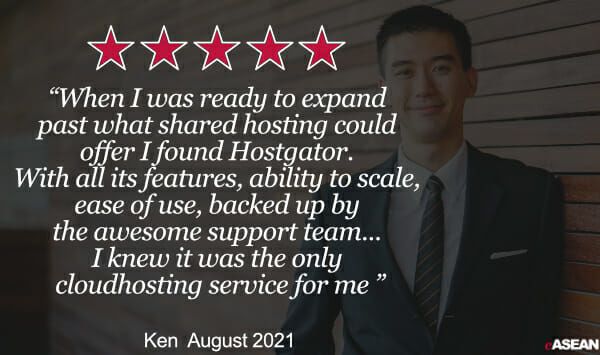 Where HostGator Falls Down
The only place that HostGator falls down is that it is not the cheapest. But, when you consider, you can start a plan for as little as $6.72SGD a month, and is packed with so much great value and features, this should never be a deciding factor.
eASEAN Score For HostGator
HostGator scores an amazing 4.6/5 on the eASEAN rating scale. The pricing is really the only thing that lets it down, and for that, we give HostGator 4.3/5. Power and Resources, plus freebies get them 4.7/5. Pack on triple-layered protection which is a 4.5/5, sprinkle in 4.6/5 for superb customer service, and top them all off with near-perfect reliability gets them 4.8/5. All in total a well-deserved 4.6/5.
Hostinger – Best For Easy Transition
Hostinger is the perfect blend of high-end features, easy to use interfaces, and speedy setup make their Cloud Start UP and Cloud Professional plans perfect plans for people newly transitioning over from shared hosting, but that's not to say these plans are not powerful, they are…up to 250GB SSD STorage, 6GB RAM, 4 CPU and the ability to run 300 websites… that's impressive.
And we haven't even mentioned the awesome Google-powered Cloud Enterprise plan which is perfect for the large eCommerce empire.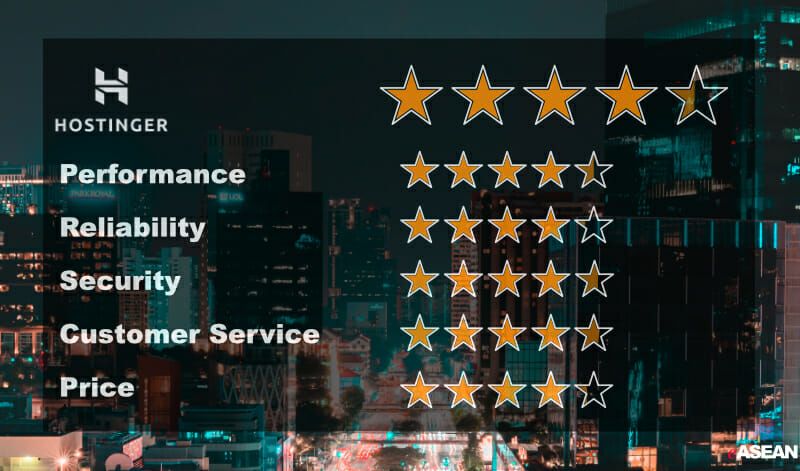 Hostinger set-up will only take you an unbelievable 6 minutes to get you up and running. AS mentioned the whole process and the interface is super easy to use and from our test, this is the fastest and easiest setup in the market. But it's not just about set up, when you need to scale or when you need to manage traffic spikes you can increase performance in an instance on your dashboard.
eASEAN Criteria For Hostinger
Performance – From their powerful entry-level Cloud Start-Up Plan which offers a massive 300 sites / 200GB SSD / 3GB RAM / 2CPU Cores / as well as lots of freebies and unlimited data packs to the awesome google-powered super-fast enterprise plan, they have a plan for every level of business entering the cloud hosting marketplace.
But we think the BUsiness Professional Plan is their most competitive when looking at Price vs all its features 250 GB SSD / 6GB RAM / 4CPU Cores/ Free Migration all the freebies and 300 sites again. Also, all plans enable real-time scaling, so your business won't be limited anymore by the physical constraints of shared server plans.
Reliability – With the category standard of 99.9% uptime Hostinger delivers similar levels to everyone, while not being as reliable as Hostinger. The difference is only minuscule, but these tiny margins can still cost businesses with a lot of sites a lot of money.
Security – Hostinger is renowned as one of the safest and most secure of providers. All of their servers have advanced security modules (such as Suhosin PHP Hardening amongst a whole plethora of other measures) which allows HOstinger to guarantee the highest level of security available today.
As well as this, your cloud plan will also provide automated daily backups and integrated caching. So you can rest safe in the knowledge that your sites are in the safest hands.
Customer Service – Patient and educated team members with excellent communication skills, the customer support team at Hostinger will go above and beyond to make sure every request is resolved.
This knowledgeable friendly bunch makes the often-tricky transition (from another provider or another plan) as easy and as calm as possible. Even when clients feel panicked/like they have lost the entire site, the Hostinger crew cooly rewalks the customer through the process spending the time to solve every little issue. A truly great team, a pleasure to deal with.
Price – As we have said Hostinger has plans to suit everyone. Prices range from $9.99 (for the Startup Plan) to $69.99 (for the Enterprise plan). Our favorite and recommended plan is the $18.99 Cloud professional plan. It is a little higher than other similarly positioned plans, but when you look at all its features and consider the depth of customer service they offer an awesome plan.
Also worth mentioning, each plan comes with a 30-day money-back guarantee.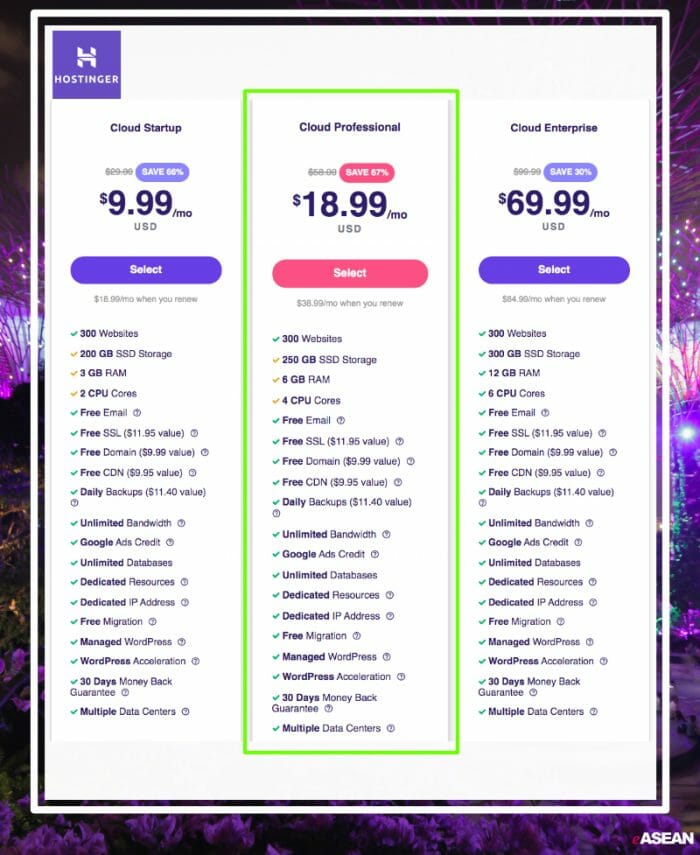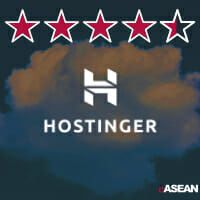 Why Hostinger Is Best For An Easy Transition
While we say they're the easiest and the fastest for setup, we feel this is further enhanced by their incredibly knowledgeable customer support team. It's probably better to call them a customer care team (rather than customer support) as they go the extra mile to ensure your flawless migration onto their cloud hosting.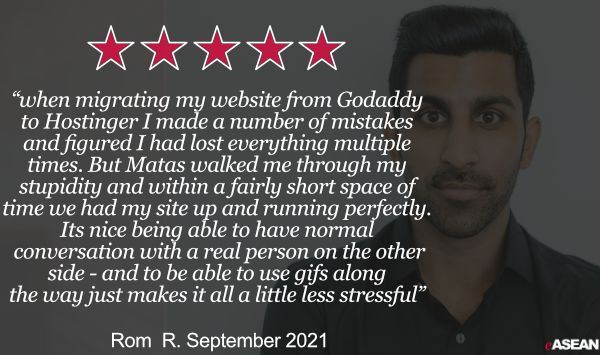 Where Hostinger Falls Down
Hostinger doesn't really fall down, but because we want to make sure you get the best advice compared to rivals, Hostinger's reliability is category level, meaning it's not enhanced, and on-par with most other providers, plus, its packages aren't the cheapest either, with their starter package at $9.99 PM, but we recommend the $18.99 one.
eASEAN Rating For Hostinger
For Hostinger they get a cool 4.4/5. That is broken down firstly with their performance levels to suit every need getting a 4.5/5, and their reliability being category level, gets them a 4.1/5. Industry-defining support gets them a sweet 4.6/5 and they drop down again with a 4.2/5 for price. But what really makes these guys stand out is the 24/7/365 access to the smartest customer care team available which gets them a 4.8/5. A great host, worth every cent!
Cloudways – Best For Managed Cloud Hosting
As Cloudways cloud hosting provides managed hosting, it offers its customers the same security and performance of a dedicated private cloud with a more cost-effective package. The additional security Cloudways offers enables as close as possible to a worry-free experience.
When it comes to Cloudways they do not offer the off-the-shelf packages, you choose whether to pay monthly or by the hour and you choose your server size… from 2GB to 192GB.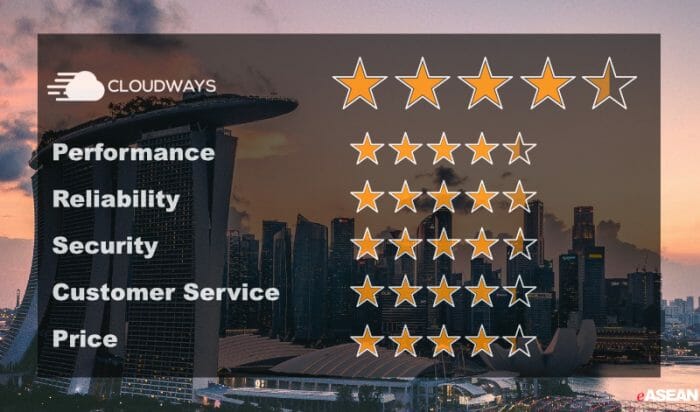 eASEAN Criteria For Cloudways
Performance – Performance is in your hands, you can build your server size to your needs, just slide along the dial, moving it from 2GB to 192GB. Once you have chosen that and chosen how you'd like to pay (hourly or monthly) you'll have access to an extensive list of features, which includes:
Free 1-click SSL installation
Free Website Migration
1-click clone /back up / restore
1-click staging set up
Unlimited Websites and apps
Team Management & access
And so much more.
Of course, this sounds awesome, and it is, but as we heard from a lot of their customers, it's pretty complicated to get it up and running, so you'll need to know exactly what you want and you'll have to be patient with an initially complicated system.
Reliability – Awesome reliability… from our testing we have seen predominantly 100% uptime, month after month. Over this period of research, for us, Cloudways have the most reliable offering in the market. Speaking to one of their customers we were informed that they had 100% uptime every month for two years straight. So if uptime is a concern for your business, look no further than Cloudways.
Security – Due to the managed nature of Cloudways plans, enhanced security is central to their offering. Receiving private server-level security at a reduced cost. Your servers are monitored 24/7 in real-time, on your console you see live 15+ real-time security metrics. DRiving this security are dedicated OS-level firewalls & security patching which will keep your server protected from any malicious intruders.
Customer Service – Cloudways offers 24/7/365 live chat which is really really responsive. However, we feel they should really offer telephone support too, especially at the setup stage, because as we have mentioned it's pretty complicated.
Price – Pricing plan with Cloudways is all about flexibility… you can choose to pay either monthly or hourly, and you choose your server size too (anywhere from 2GB to 192GB, with that the price range goes from $10 to £1,035 er month.
This flexibility is perfect for businesses that may need to scale quickly, and they can move the dial along to suit their budgets, while to eCommerce veterans this is an awesome option, to those crossing over the lack of structure particularly when it comes to pricing may be too complicated.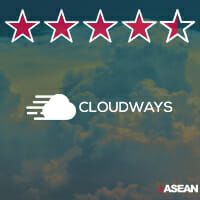 Cloudways Cloud Hosting Singapore
Cloudways is great as a managed cloud hosting server, not just because it is managed, but its reliability and security are top-notch. The only thing to be wary of is the initial setup, but once you get that going you will fly through the rest.

Get started with your FREE Trial now!
Why Cloudways Are Best For Managed
Cloudways is the perfect balance between performance and security, and with the ability to build and create your own hosting plan to suit your needs they are excellent. Once you have gotten through the initial setup the managed side leaves you to do what you need while Cloudways look after the rest. A really great company.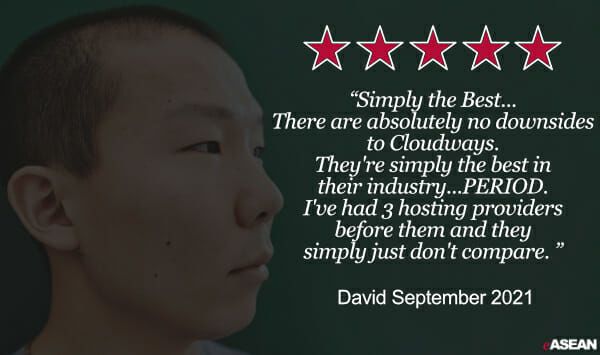 Where Cloudways Falls Down
With Managed Hosting the provider takes on most of the ongoing running of the site's hosting, which means one less thing to worry about. However, from our research, many customers found the initial setup, e.g. choosing server size, how to pay, etc quite daunting, as they had never had to make these decisions before.
Many found the process slow due to their own tentative nervous approach. But on the positive, Cloudways does have very responsive live chat support which is very helpful and will navigate you through this initial complication.
eASEAN Rating For Cloudways
Cloudways gets a really good 4.5/5. It scores 4.5/5 for the flexibility of the bespoke packages, 4.8/5 for the reliability of servers, 4.6/5 for the private server security that you get, and they fall down on customer service quite a bit, scoring 4.3/5 for both categories. They could really do with more customer support options.
Bluehost – Best Cloud Hosting For Safety
One of the main reasons companies migrate to cloud hosting is their want to increase security and as such, all cloud hosting plans offer great security… so to be rated as the best for security BlueHost would have to do something special above and beyond the rest… and they do have a very unique approach to security. They mirror your websites…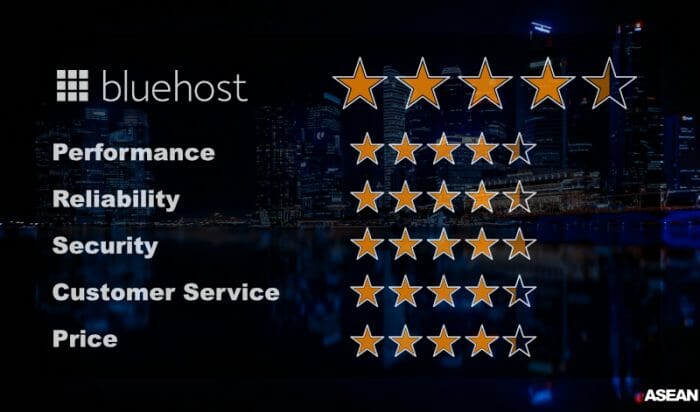 Their super-intuitive interface enables customers to easily view and monitor traffic trends and with their scale-drag system, you can scale to match your predicted traffic levels in an instance.
If you're a current Bluehost Shared Hosting Customer the migration over to Cloud hosting is nearly seamless. The customer support team makes it as easy as possible, in fact if you're migrating over from another provider the team makes go the extra mile to show you everything you need to know for the transition over.
eASEAN Criteria For Bluehost
Performance – Powered by Openstack and KVM the best hardware out there at the moment. Our preferred Plan is the Performance Package which offers unlimited sites, unmetered storage and bandwidth, free domain, 4GB RAM, 4CPU, as well as loads of marketing add ons. Their interface is perfect for monitoring and upscaling to match traffic levels.
Reliability – From testing, we have seen that BlueHost scored 99.98% uptime, which puts them very near the top of all providers, what more do we need to say.
Security – With their unique triple mirroring data approach BlueHost is the category leader when it comes to security. As well as this they deploy 3 layers of anti-spam protection (Spam Experts / Spam Harder / Apache Spam Assassin) Al your directories are password protected. You can also blacklist IP addresses if you want to block access to your site. They also deploy Cloudflare which is excellent at diffusing DDOS attacks. So if security is your top priority, BlueHost should be your top choice.
Customer Service – 24/7/365 phone/email/social/tickets will help make the transition as easiest as possible. The team is knowledgeable and friendly with a real can-do-attitude… every request is sorted in quick time.
Price – Plans are very competitive, coming in around the lower mid-level price range. Bluehost plans start at $10.95 for the Starter PLan, $15.95 for the Performance Plan, and $20.95 for the Business Pro Plan. We're big fans of the Performance plans, it is packed with all the best cloud essentials, and at $15.95 it's definitely one of the best prices out there. Also, if you commit to 36 months, you get another 44% reduction.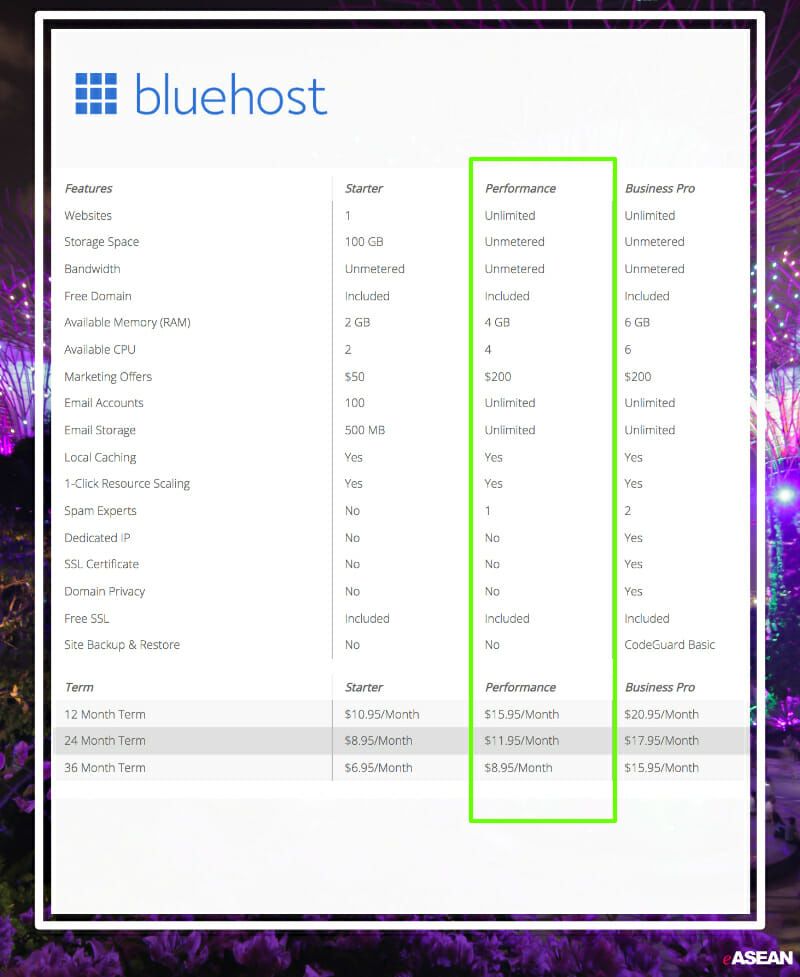 Why Bluehost Is Best For Security
Bluehost is best for security due to its unique triple mirroring data which puts them as the leaders in cloud hosting security. They have 3 layers of anti-spam protection, which means all your directories are password protected. They also deploy Cloudflare which is excellent at diffusing DDOS attacks.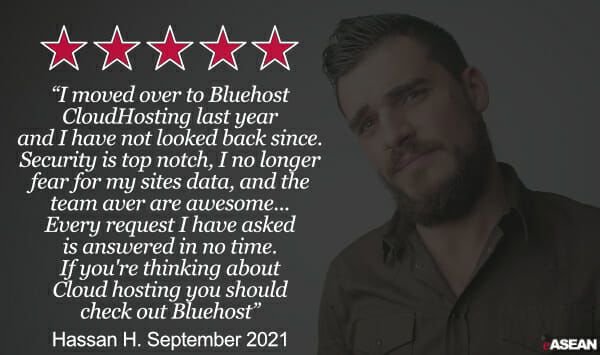 Where Bluehost Fall Down
Like every single cloud service provider on the list Bluehost doesn't really fall down in many places, if any, they just aren't as good as others are. They have knowledgeable customer support, but it isn't as good as others on the list here, and again, their pricing plans too. But, to say they fall down is a massive overstatement.
eASEAN Rating For Bluehost Cloud Singapore
Just like many others on the list, Bluehost score a 4.5/5 for their cloud hosting packages. We broke their scoring down as follows: Performance powered by top-of-the-range hardware gets them 4.5/5, along with 4.5/5 for their top-of-category reliability. Their knowledgeable and friendly customer support, along with strong mid-range price plans gets them 4.3/5 apiece, but where they really stand out is their best-in-class security that gets that a brilliant 4.8/5. Top class host, best for security.

DreamHost – Best For Budget-Friendly Cloud Hosting In Singapore
Being that DreamHost is voted our Best Value or Budget option, it would have to do something pretty spectacular with its pricing… And it does, with starter cloud hosting plans coming in at a ridiculous $4.50 per (10% cheaper than its nearest rival, We're a big a of their intermediary offer as it offers a lot of awesome features which the start plan is lacking, comes in at $12 a month.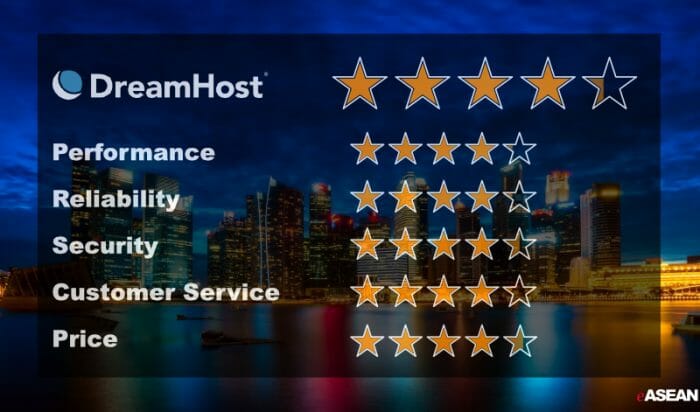 So how can DreamHost offer such crazy prices, well quite simply they can do this because they have masses of consumers (XM site customers) These huge numbers mean through economies of scale they can reduce their costs for individual customers (as they make a little profit off a lot of customers).
But it doesn't just mean great prices, it also means great knowledge about what a business needs, so their plans can look a little sparse compared to other providers, but they seem to add just the right amount of features for the right type of user.
eASEAN Criteria For Dreamhost
Performance – Dreamhost has learned what a customer needs, so in comparison to some plans they can look a little sparse, but we feel their plans are packed just right. Take their intermediary plan which costs a max of $12.00 per month, you'll get 2GB RAM, 1vCPU, 80GB SSD, free bandwidth, 100 GB Block storage, and loads of other little add ons. This is a great little offering.
However from our testing, it did have a slightly lower than average load time, and load time can mean the difference between a visitor bouncing or becoming a customer.
Reliability – When you read DreamHost's 100% uptime guarantee, you cant help but be excited, these guys mean business. However, through our testing we found that they were not hitting this guarantee, in fact, their uptime averaged out at 99.85%, which is in fact below the 99.9% industry-standard guarantee.
Security – Having so many customers, DreamHost has learned what security we need… and they offer quite the plethora of security features, including:
bespoke malware remover tools
free & open SSL/TSL certificates
free domain privacy
industry standard firewall for apache
http2, And much much more.
Customer Service – Sometimes migrating over to cloud hosting can be complicated, hearing a friendly voice on the other end of the line to walk you through your problems can make the whole process feel a whole lot easier… unfortunately DreamHost doesn't offer phone support.
In fact, we found during our research that their live chat support which is meant to be 24/7 didn't seem to be 24/7 as it took their team quite a chunk of time to get back to us. Saying that, when they did, they were very apologetic (for the delay) very friendly, and most importantly very knowledgeable as they sorted issues in an instant.
Price – Hands down the cheapest in the market, so if you're very budget-conscious look no further than Dreamhost, at plans starting at $.50 per month, they're 10% cheaper than their nearest rival. But what's probably even more impressive is their insane 97-day money-back guarantee. To off a guarantee like this, they really have to believe in their product.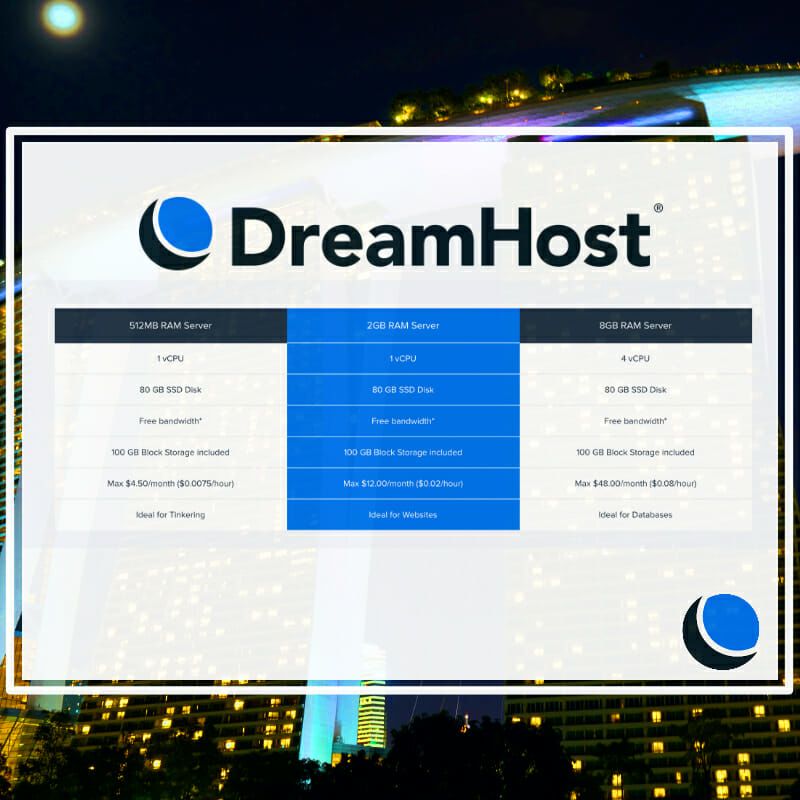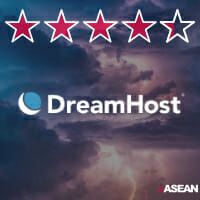 Why DreamHost Is The Best For Budget
Considering they are the cheapest in the cloud hosting market, with amazing features to boost, along with a crazy 97 Day Money Back Guarantee, and plans to start as little as $.50 per month, they're 10% cheaper than their nearest rival, and a killer deal for anyone looking to stretch their SGD that little bit further.
Where DreamHost Fall Down
It must be said that Dreamhost is far perfect, their offering has problems, sometimes site speed can be slow, even though they offer 100% uptime guarantee through testing we saw them fall below the industry standard, and because they lack phone support their customer service still has a way to go.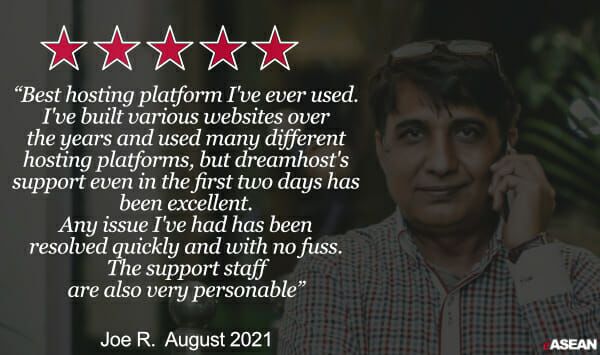 eASEAN Rating For DreamHost Cloud Hosting SG
Overall, DreamHost gets a 4.3/5 for their budget-friendly cloud hosting packages. The performance gets 4.1/5 as it is packed full of features but performance can be a little slow. They get 4.1/5 for their 100% reliability for their uptime guarantee, which through testing is more like 99.85% of the time (which is still brilliant). For Security, they get a 4.5/5 as their cloud hosting service is packed full of security features. They fall down again for customer service with a 4.1/5 due to no phone support, but its live chat is very good. And finally, they get an awesome 4.7/5 for Price, due to Excellent prices and their crazy money-back guarantee.

Best Cloud Hosting Singapore Conclusion
It all comes down to this… what is it that you are after. Each of our recommendations has been thoroughly researched, tested, and broken down for you in the easiest way. The best over is Hostgator, best for the price is Dreamhost, now your decision is… which criteria fit what you need the most?
FAQ
Do Cloud Service Providers in Singapore Give Good Support?
Some cloud services providers in Singapore offer support 24 X 7 and some help on only working days.
To be honest, if it's about Cloud hosting, you will definitely need support. So, if support is responsive and available most of the time, it would be great. Think accordingly!
Which Cloud Service Providers in Singapore Are Good for Your Business?
In my opinion, Hostgator and Dreamhost are the best Cloud service providers in Singapore for your business. However, it depends on your needs.
As I've told you what makes cloud hosting good, you're eligible to pick the right one for you.
Just remember! Other cloud hostings other than HG and Dreamhost are on this list for a reason. Go ahead and use your newly acquired knowledge.