Business is booming in South East Asia and Singapore is taking on all challengers and now you want to get a website or App online. The first step was deciding that you are first going to go with a Virtual Machine VM or VPS, instead of a dedicated server.
You understand that scalability is important, but so is budget, the next step is choosing whether you are going to run your websites on a Windows VPS Singapore server or Linux operating system (OS).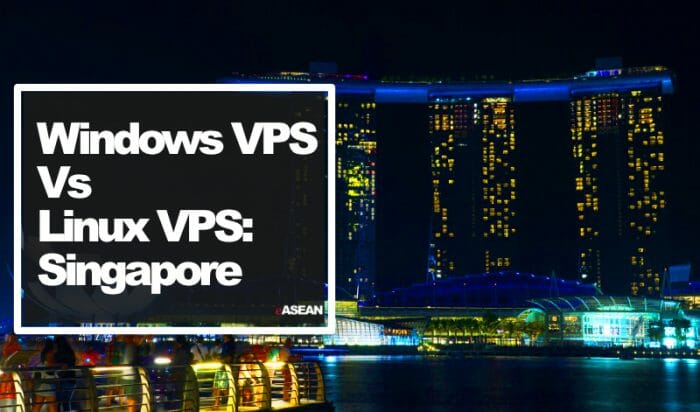 While both Linux VPS and Windows share many of the same functions in their VPS hosting OS, there are a few different elements of them that you want to be aware of, and also, if you are looking for cheap VPS for your business in Singapore you can check out the following Cheap VPS Singapore reviews that will help you make the right choice of Windows or Linux.
First, let's look at Singapore Windows VPS, and what it actually is.
What is a Windows VPS?
Windows VPS hosting means that your web hosting server runs an operating system created by Microsoft. There are multiple different versions of Windows VPS servers in the market today, but each and every one of them uses a Microsoft OS.
What is a Linux VPS?
Just like our Windows servers, the Linux VPS server is run not with Windows, but with a Linux operating system.
There are a lot more Linux hosting servers than there are Windows, due to costs and license fees associated with the Windows VPS Server OS, and most of them are actually free to use, while bundled in with your virtual server.
If we go back a few years the Windows hosting environment would have been a lot more user friendly than its Linux brother, but with the way, technology is advancing at such a rapid pace, it was inevitable that Linux would get a UX upgrade, and that is all down to picking a hosting provider with good quality and easy to use Control Panel, potentially like the Plesk cPanel.
Some might not offer this Control Panel, and if you don't know your database from your MySQL, and your ASP from your SSH then you will need someone to install a good quality cPanel software on your and Linux virtual private server.
Linux VPS vs Windows VPS Singapore: Which is the best VPS OS compared
The operating system is one of the most noticeable factors in the choice of a good VPS hosting service for your Singapore business. We will talk Linux VPS vs Windows VPS here.
Windows VPS
Windows VPS Costs More – When it comes to Microsoft expect your hosting provider to pay for using their OS on their servers. This means you get hit with the bill. Plus, when running the Windows OS it uses up a huge amount of SSD disk storage, which adds a hefty amount to the price tag.
Updated More Often – Basically, Windows are constantly updating and making their operating system better all the time, better software, more updates, more cost to you.
Knowledge Base – No matter your issues, you will get them solved running Windows. They document everything, so if your issue or similar has arisen it will be on file along with the solution.
Suited To More Tech Requirements – If your online work/apps are created in ASP or ASP.NET, you obviously need Windows VPS as ASP is an open-source framework for developing created by Microsoft.
Windows VPS servers are created primarily for businesses that run on Microsoft programs, easier management, and upgrades of customers, keeping their creators in their environment.
Linux VPS
Open source – Yes, we love a bit of open source as it is free to use, unlike the Microsoft OS. If you are looking at creating in PHP/Perl, ROR, Java, Python, SSH, CGI, or using the likes of MySQL for your databases then Linux is a good choice.
Also, you can use the likes of CentOS, Debian, and Ubuntu plus others on your Linux virtual private servers.
Budget-friendly – If you are on a limited budget then Linux VPS is a good choice. Also, if you know that your technology doesn't have massively demanding requirements and functionality needs then Linux is a good choice.
More technical knowledge – As mentioned above, if you can find a Linux server with a cPanel then you are onto something good and easy to use, if not, hire someone's services to get your control panel installed.
Which is better Linux VPS or Windows VPS?
Singapore has multiple virtual servers, some great, some not so great, but which one do you pick?
This really comes down to requirements, tech knowledge, and budget. Now, while we can give advice, these decisions will be up to you.
If your online business, web app, or service needs a seriously good amount of tech backup, then go with Windows, if you have the budget that is.
If you are seriously tight on budget and a Windows server is too costly, you need to work out your finances and check how Linux works.
If you lack tech skills, find someone, a knowledgeable developer to outsource work to.
The smart choice for growing businesses
The smartest choice for a growing business in Singapore is this… choose your Singapore Windows VPS or Linux to suit your requirements and budget, (but potentially, if Windows is your choice, you can also find a cheap Windows VPS in Singapore that can help you out).
Remember, your online business may not need what Microsoft offer and would just be a waste of money and resources getting this, VS, Linux, you may need more technical requirements and a more demanding hosting environment, then look at Windows.