VPS is used for hosting websites. It is a form of host plan that a hosting provider allows users to rent so they can get their websites onto the internet.
VPS stands for Virtual Private Server. It makes use of Virtualization technology to give you special (private) resources on a server with multiple users.
So, you share the virtual servers with other users.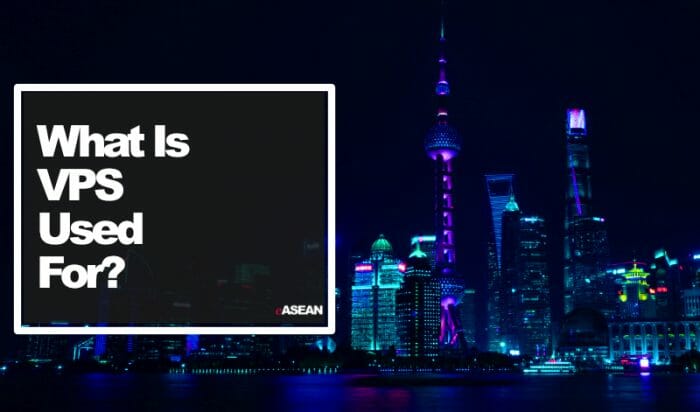 What is VPS Hosting & How to use VPS Server?
VPS is a much more secure web hosting service, than the most popularly used shared hosting packages, and at eASEAN we are big fans.
While not as good as dedicated hosting, which we will get onto in a moment, customers looking for the best virtual servers do get a lot more in terms of:
Resources and limitations,
Security and reliability,
Support and growth.
One of the brilliant things about using a VPS as your web host is that it lets you scale your site seamlessly as you grow and need more resources.
Sometimes VPS is chosen by Website Owners who have medium-level traffic to exceed the limits of shared hosting plans.
Difference between VPS and shared hosting
The main difference between VPS and shared hosting is that on a virtual server you (the customer) get your own dedicated resources, that you can use just for your own business, without any other people on that server using them up. You will still share that physical server with a few other customers, but not nearly as many as shared, and you can check out our breakdown of the best cheap VPS Singapore hosting providers here.
Performance – A VPS hosting plan has better performance simply because your users aren't competing to access your website (And resources) with all of the other websites that are on a shared hosting server. Basically, your server resources are yours, and not shared.
Reliability and Safety – This basically means that the uptime of your website will be far better than that of shared hosting servers. This comes down to better infrastructure, and fewer people causing issues on the server.
Security – Fewer websites take up a virtual machine in comparison to a shared company, which means less chance of hackers attacking the multitude of under-secured WordPress sites on the basic shared hosting.
Price – VPS offers more resources, is more secure, and also, there are less people paying for the server from the hosting company so the price per user increases.
Scalability – As your business grows, more and more people will come to your sites. As this number increases, the more resources you will use. On shared hosting, you have a limited number of these resources, but on a VPS you can continue adding more, even if you reach that ceiling level.
Customization – You may want to add custom software to your hosting account, outside of the hosted company's allowances to shared hosting. You can add pretty much any software or application from your computer to your VPS, unlike in shared.
So as you can see, the differences between VPS and shared hosting mostly come down to freedom of use and being able to manage things as you want without a worry of things being limited.
Difference between VPS and Dedicated Server
The main difference between VPS and dedicated servers is that you do not share the same physical server with anyone else. So let's look at what are the benefits of this:
Performance – Super quick always, no issues with traffic surges or resource-intensive usage, Vs VPS, where, again, you have no problem with traffic surges, unless other sites on your server have them at the same time (which doesn't happen very often, but can).
Resources – With both hosting here you get flexible resource limits to work from, with VPS even digging into other resources on the same server. With dedicated, if you need extra resources they can be allotted to you, with no issues, meaning you never ever have a limit, no matter how big or quickly your website grows.
Security – You are in charge of your own security with a dedicated server, no other sites are on this. Vs, a VPS, where you do share the server with others and become vulnerable if other sites have a security issue or hack.
Configurations – You are open to everything with this one, your own software and applications can be uploaded and used on both.
Scalability – With dedicated servers, you basically are at the top of hosting as it is, so you can do anything with it. With VPS, if you get to a level like a million visits a month, it might be time to move over to a dedicated server, as the price (if you are converting those visitors into income) becomes negligible.
Price – VPS starts from around $10 per month, for very basic, but can go up to over $100 as you increase, whereas, dedicated hosting can start from about $100 and go up to over $400 per month.
How does a VPS hosting service work?
A VPS hosting service works by renting out part of a server to customers. So you get part of a server running within another server. You will have other users inside, each with their own section of the physical server, which is called a virtual server. But, you won't have access to theirs, and they won't have access to you. You have your own resources, operating system and can add your own software and applications to your server without any issues.
What Is VPS Used For And What Are It's Benefits
If you are a web business and looking to start scaling up your online efforts then VPS could be the thing for you as it is a far better option than shared hosts for a growing business.
Stuck nicely in-between shared and dedicated hosts, a VPS allows a greater number of resources, cuts out limitations, and allows you to grow your website as quickly and securely as possible.
How do you decide when to upgrade to a VPS?
You know it is time to upgrade to VPS when the following starts happening:
Your website starts to slow down and you are constantly getting speed issues within your Google Search Console.
Your traffic/visitors to your website is growing really fast, past 20k per month,
You need to start adding more resource intensive content to your sites, videos, large files etc,
You need more secure hosting as you are moving to a more online transactional based business,
If you come across any of these issues, it is about time to decide that you should upgrade to VPS.