Getting started with VPS hosting isn't as easy as most might think, it requires a bit of know-how from your side, mostly gained through using shared hosting before. Also knowing how to manage a VPS server comes down to choosing a good host that compliments your knowledge with great support and performance.
Because with great hosting and features, comes great responsibility. Especially when you're using an unmanaged VPS!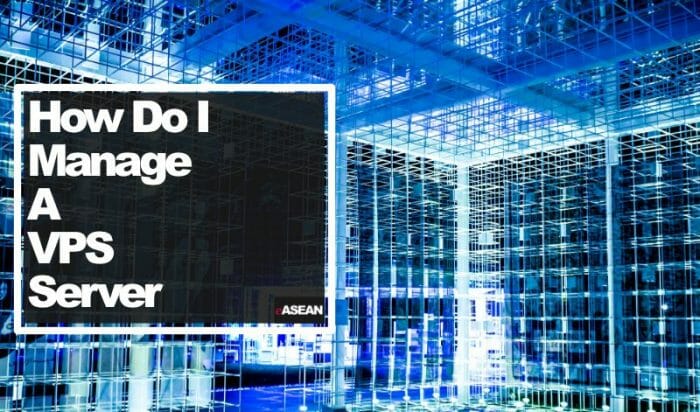 If you are using unmanaged VPS, most things – from the control panel to basic tools installation – you need to take care of everything as you're the controller of your own VPS hosting environment.
If you're not a developer and are still looking for the best VPS Singapore server to manage on your own, then let's have a quick look at some tactics that would help you manage your VPS easily.
How To Manage A VPS Server As A Beginner
It really comes down to this – if you are a complete technophobe then you should be getting a managed VPS server company, as they will look after all of the tech and maintenance that you need to do when owning a virtual private server.
But…
If you know your way around hosting a bit, then a much cheaper option is going for unmanaged, but, in this case, going for a hosting provider that actually provides support is key here, like Bluehost offers great support for unmanaged VPS hosting.
But not only that unmanaged gives you the ability to set up your hosting environment how you want to. But again, if you are planning this, you either need to be a developer or have someone on your team who is.
With this in mind, here are the top tips you need to ensure you know when managing your own VPS server.
1. Understand the VPS Control Panel
This is super important to know, so familiarize yourself with your hosting company's control panel as they are all not created equal or the same. This is where you will have access to all of the most important information related to your hosting account, like your IP Address, logs and statistics, and your operating system, etc.
Once you get to grips with the inner workings of your CP, you will be able to:
Shut down your server,
Boot and reboot it,
See how much disk space you are using,
How much memory there is,
And also bandwidth.
2. Manage Your DNS – Domain Name Servers
Depending on where you have registered your domain name you will want to connect that to your VPS server. You do this via the DNS.
NOTE: It is advised to purchase domains and hosting separately, and to keep your domain name registered at an external registrar. Our choice is NameCheap.com, but there are also places like GoDaddy.
If you have both your VPS hosting and domain name in place, go to your registrar for your domain name, and go to Manage Domains – Locate your domain name, and click manage, then click DNS, or Nameservers.
After that, you will want to gran your nameserver addresses from your hosting service provider. They will look like this.
dns1.nameservers.com
dns2.nameservers.com
dns3.nameservers.com
dns4.nameservers.com
These could change, as each hosting company will have different nameservers.
Once you have completed that, click save and then if necessary go into your control panel in your hosting and click Add-on domain. then you will add your own domain name to this and you will be ready to go.
The connection of the domain name and hosting normally happens pretty quickly but can take up to 48 hours in some instances.
3. Install Your Software That You Will Use
Depending on what hosting company you have for your VPS will make the process of installing software easy or difficult. Some hosting servers and control panels might already have the software you are looking to use. Many run a program called Softalicious which has many different software programs on it and is called an auto-installer program – which explains it all really.
It comes with an easy 1 click install, for software like WordPress and Drupal, whereas other VPS Servers might not.
Perhaps you have your own unique software you plan to use, for this, we recommend getting your developer to install.
They are the most important things that you need to know how to manage a VPS server, next, let's look at what can actually run on your VPS hosting.
What Can Run On VPS?
I would also like to equip you with the crucial knowledge that is needed to use your Singapore VPS.
Okay, so if we are talking about unmanaged VPS server, it is not limited to hosting a website, it can do much more!
Here's what a VPS server can run:
Self-Hosted Applications on Your VPS Server
On a VPS server, you can self-host all of your projects without taking help from SaaS (software as a service) alternatives. If you have ever used such services, you must be aware of the fact that this software charges hefty monthly fees.
There are so many good open-source applications that can do your work for free in a better way.
Have you ever heard of Dropbox? Well, it can be replaced by NextCloud. From CRM to account apps – you can host almost anything on your VPS server.
Launch Your Own Game Server with VPS
Ever wondered you can even host games on a VPS server? Although it looks like, why would someone spend money on building a gaming server, right?
You may not know this but people are earning millions on a Minecraft gaming server.
And guess what? Game hosting is not only limited to Minecraft. There are other games like Rust, Counter-Strike, ARK, and you name it.
Create a Backup Server on VPS to Preserve Important Data
Working online is no joke! You may lose all of your important documents or let's say business data in one go. To not fall into such a booby trap, you can keep a backup on a VPS.
Although there are ways like external hard drives or USBs, you can't access them from any corner of the world.
Run A Mail Server On VPS
Here comes another cost that you can cut on a Singapore VPS server. What if I tell you that you can host your company's own email server on an open-source mail server?
What I like the most about these open-source email servers is – there are loads of these and they're not as technical as people think.
How Can We Start A VPS Server?
Starting a VPS server is absolutely effortless. Here's what you need to do:
Learn a secure way to log into your VPS (most people prefer via secure SSH)
Update your server
Create a new user and modify its privileges
Enable public-key authentication
Set up a firewall for your VPS
What is VPS Bandwidth?
The amount of data your website can transfer to your users in a given amount of time is called VPS bandwidth. In other words, we can say that bandwidth is nothing but calculated gigabytes, which web hosting companies offer to their customers.
If we look at it from a simple approach, it's like the diameter of a pipeline!
The more VPS bandwidth you will have, the more media you can have on your server. More importantly, there would be fewer chances of crashing.