BlueHost VPS hosting is our top choice for Beginners looking to get stuck into their own virtual private server hosting here in Singapore. This Bluehost VPS Hosting Review for Singapore covers all the bases, so you won't have any more questions, just a simple, Yes, this is right for me, or No, this is not.
So what criteria must a VPS hosting provider do well against to be our best hosting provider for a beginner?
Well, it must be easy to use, BlueHost (loved as one of the best WordPress hosting providers) has the quickest and easiest setup of all VPS hosting plans, and its control panel (along with Hostinger) is the easiest to use. If you are looking for other aspects of VPS Hosting Providers in Singapore, check here.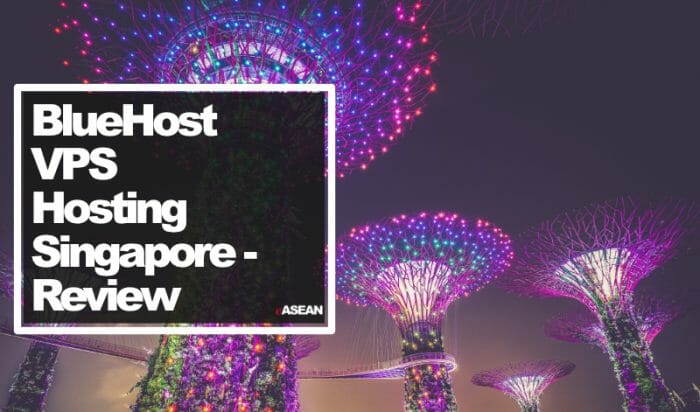 It must have excellent customer service, all BlueHost plans are unmanaged (which comes with added responsibility as you will have root access and admin rights) but it doesn't feel like it is an unmanaged web host, as BlueHost's excellent customer service team are so hands-on they make the process of managing your hosting very very easy.
It has to make it easy to scale, and of course, again BlueHost offers plans perfectly constructed to match your business needs as it scales (and the team makes it so easy to graduate up through the plans as and when you need to).
Finally, and probably most importantly, BlueHost offers some of the most affordable plans out there, and this is really important, you're new to this, you're just dipping your toe in the water of VPS, you don't want a huge investment straight away, you want a set of plans which are affordable and most importantly good value for money.
With over 2 million sites now hosted on BlueHost, nearly 20 years experience (which is a long time in this ultra-competitive environment), and endorsements by WordPress, every beginner out there should know that they are in the best hands with BlueHost VPS hosting here in Singapore.
To help you greater understand VPS Hosting, and particularly if you're a beginner; why BlueHost is just right for you, we now have deep dive of BlueHost VPS hosting, where we analyze:
Performance: Hardware / Features / Reliability
Ease of Use: set up & migration / control panels / website builder / scalability
Security: protocols / backups
Customer Service: access and attitude
Price: ranges/contract duration / money-back guarantee
And then at the end of the article, we will give you our top picks for BlueHost web hosting services, and you can grab extra discounts by clicking one of the links throughout the review…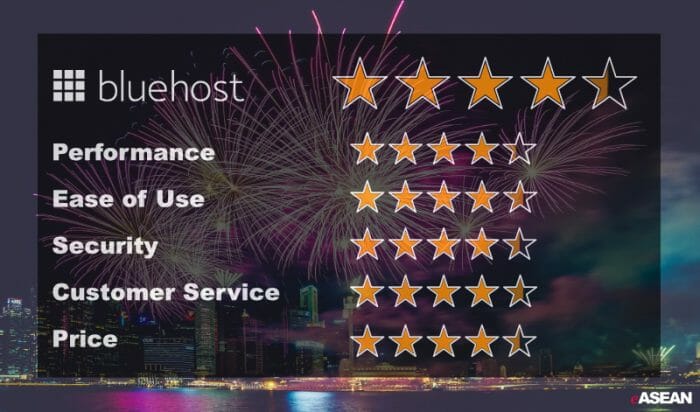 Bluehost VPS Performance
Ease of use and affordability are all well and good, but for a Bluehost VPS hosting review, it definitely has to perform well. So, to set things straight: You're looking to move away from the limitations of shared hosting so as to benefit from Virtual Private Hosting and here Bluehost will not let you down.
BlueHost plans are comparable with some of the best in the category (without being the best). Bluehost offers uptime and load-time which is more than sufficient and proficient for businesses just entering the VPS hosting game here in SG.
Server/CPU
BlueHost is run on Apache Servers, the world's most popular server software. Apache is a free and open-source cross-platform web server software.
vCPU
Plans come with 2 and 4 cores. As we always say, for a basic beginner (but growing) site, you will need at least 2 cores (to enable a smooth operating site).
SSD
With its recent upgrade from the old HDD storage to a brand spanking new SSD storage on all plans you can expect a significant increase of in-site speed compared to your shared hosting plans. Plans offer 30GB SSD up to 120GB SSD
RAM
Plans offer 2GB, 4GB, and 8GB of RAM or random access memory. Each plan has sufficient RAM to enable the smooth running of your site and the performance of multiple temporary tasks.
Additional Features of Bluehost VPS Hosting Singapore
Each plan has a great selection of additional features to get your site's motoring.
Bandwidth: BlueHost offer unlimited bandwidth,
Transfers: 1TB up to 3TB,
Cloudflare Integration: all plans also come with the awesome Cloudflare integration,
SSL certificates: all plans come with free SSL Certs,
Free marketing add-ons: with every plan, you can get up to a $100 Google Ad coupon amongst other promotional benefits,
Local servers: BlueHost's servers are based in the USA; if you have a high-tech, high-spec, high-traffic site we would always recommend a local provider, but if you're a beginner, the load time offered by BlueHost's American servers is more than proficient for your operation,
Reliability: With an average monthly uptime of 99.98% (from our testing) they have the joint best performance in terms of uptime delivery. Not much else to say about that, apart from… uptime equals profits, downtime equals lost profit… so these guys are good.
Is Bluehost VPS Easy To Use?
For us, ease of use is all about control. When you use a service you need to feel in control of your VPS, and with Bluehost you really do.
From the first moment,
Right through to adding your own bespoke security protocols you feel in control,
The environment created by their team and the support you get makes you feel at ease, comfortable with what you're doing.
And as a beginner in this space, it takes a lot of pressure away as it allows you to focus on the more important revenue-generating ideas of your business online.
Migration & Set-Up
The team has made this one of their key selling points. They will do it all, they will migrate your WordPress sites or blog over to BlueHost for free. Once you're over with BlueHost, the setup is so easy. It's so intuitive you will have it up and running in 5 minutes, but if you prefer one of the support team to run you through the process they will "hold your hand" every step of the way.
Panels
BlueHost offers the ever-popular ubiquitous cPanel, but more importantly alongside cPanel, they are offering WHM. WHM is a suite of tools built for Linux OS that gives you the ability to automate web hosting tasks via a simple graphical user interface.
Website Builder
BlueHost also offers a very easy-to-use website builder which is packed full of easy-to-build templates… they have templates for every business type. It does come as a subscription, starting at $2.99 per month. As well as website builders, they also offer lots of pre-configured developer-friendly solutions too (something which will be more important as your business and your sites grows).
Scalability
BlueHost is made for scaling. Get in on the ground floor, start off with one of their lower-tier plans and scale up your server resources from there. The support team makes it super-easy for customers to graduate up through the plans. As and when you need to grow, the team will have your account moved up to the next plan in next-to-no time.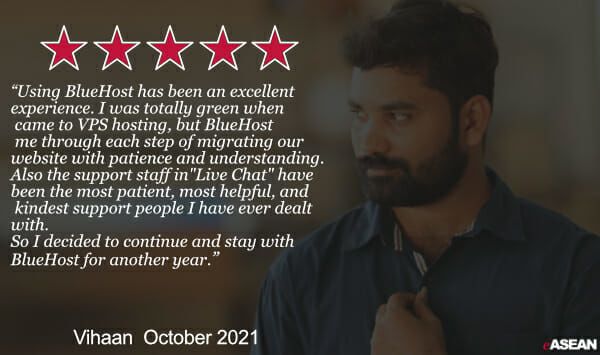 Bluehost Security – Securing Your Server
The guys over at BlueHost have been doing this a long time and they know all the best security measures to put in place for your websites. Every day BlueHost will scan your site and databases with SiteLock for viruses and/or malicious malware. On all plans, it offers Free daily, weekly, and monthly data backups.
Continuity of operations
All servers have UPS-powered backup as well as diesel generator power back and 24/7 server monitoring. While not dedicated servers per se, it feels like it is.
Additional security measures: now as you have graduated to VPS and you will have root access, you can also deploy further bespoke security measures. Again, if you need any assistance with this setup, the team has so much experience, they are more than willing to help.
Customer Service – Excellent Support
No BlueHost VPS Hosting review could not contain how brilliant the customer service team is. They should really be called the "managed" unmanaged VPS Hosting Provider, because their team is so hands-on, so helpful, so "managing", that you feel like you're getting a managed service at an unmanaged price.
And as I mentioned above, the level of support is like managed dedicated hosting, not unmanaged VPS. The team has created the most user-friendly unmanaged hosting environment in the entire category.
Access
If you're a beginner you will need a lot of hand-holding, and you will need every avenue of access, you might want to talk on the phone because a friendly voice is the best way to walk you through an issue, or maybe you prefer to live chat or email, or maybe you're a do it yourself type entrepreneur who just wants access to a large library of guides and manuals… BlueHost offers all of this 24/7/365. So however you want to communicate with the Bluehost team you can.
Attitude
Their attitude is perfect, they're hosting professionals, they have been dealing with hosting clients for years. They know that every client is different and they adapt to create every client's needs. They can be totally hands-on and take over pretty much every step of the process or they can take a step back and just point you in the right direction. They have the confidence, knowledge, and experience to tailor every support team experience to each individual client.
Location
While not based here in Singapore, usually this is an issue for us here at eASEAN as we like to chat to someone who knows a little bit about us Singaporeans (culturally) but with BlueHost, because they're so experienced and professional this is not a problem, they could be the best customer support team in the business.
Bluehost Pricing – What To Expect
While not the very cheapest in the category, all their pricing plans are incredibly well priced… some of the very best within the category.
When comparing to say the cheapest within the category, you need to remember, you're paying a slight (not a lot of a) premium with BlueHost because they make the entire process feel so easy and you have access to a team that makes unmanaged hosting feel like managed.
Price Ranges for VPS
There are 3 plans, entry-level which they call their Standard Plan, which starts at the very reasonable $19.99 per month, their intermediary which they call their Enhanced plans to start at $29.99, and their high-level plan which they call the Ultimate plan starts at $59.99 per month. So plans which are priced perfectly for different stages of your businesses growth.
Duration of Hosting Plans
Plans come in 3 different options Monthly / 12 Monthly / 36 Monthly. Obviously, if you go with the 36-month plan you will benefit from the biggest discounts.
Bluehost VPS Money-Back Guarantee
No questions asked 30-day money-back guarantee, so if you're not happy, you get your money back straight away (but we think you will be happy)
eASEAN Top Pick For Bluehost VPS Hosting Review Singapore
Usually, when recommending plans, most people will recommend their intermediary plans, but because we think BlueHost will work best for beginners we think their beginner or Standard plan is the perfect starting point.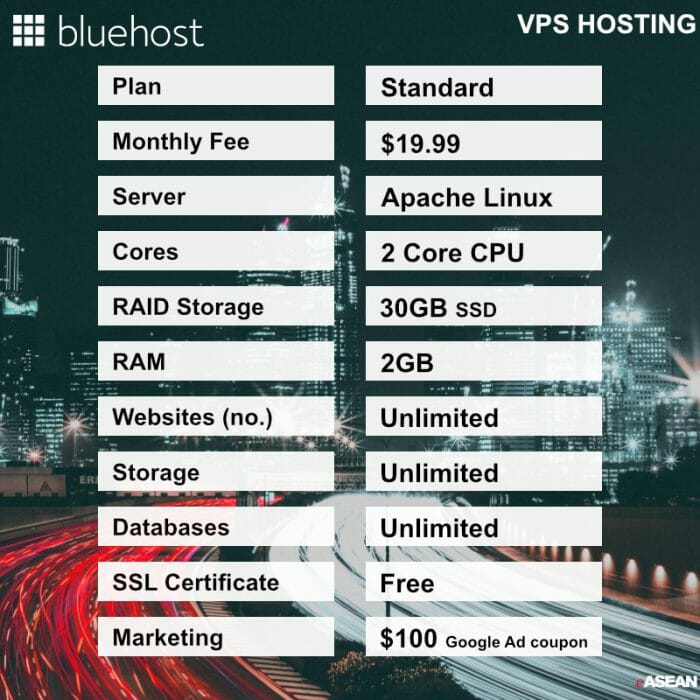 It has all the features you will need; 2 Cores, 2GB RAM, and 30GB SSD storage, to get your simple but growing site to its next stage. It's the perfect package to get you used to VPS, and as we have said, when you're ready to scale the team has made it super easy to do so.
And finally, it's a really great price, you're basically paying $19.99 per month for a plan which is as close to managed hosting as you can get.
Conclusion
If you're just new to VPS, but you know you have outgrown shared hosting, you aren't looking for unlimited websites, a free domain, or a massive upgrade to a dedicated server.
But you're ready to benefit from the additional performance VPS will offer you… and you want an easy transition, then BlueHost is the Hosting provider for you here in Singapore. They have the easiest-to-use plans, they make it easy to scale and they round it all off with plans that are priced correctly.
They have all you VPS beginners here in Singapore covered, which is why this Bluehost VPS Review was created, to help even those who prefer Singaporean-based providers that there are some cool international players to look at.