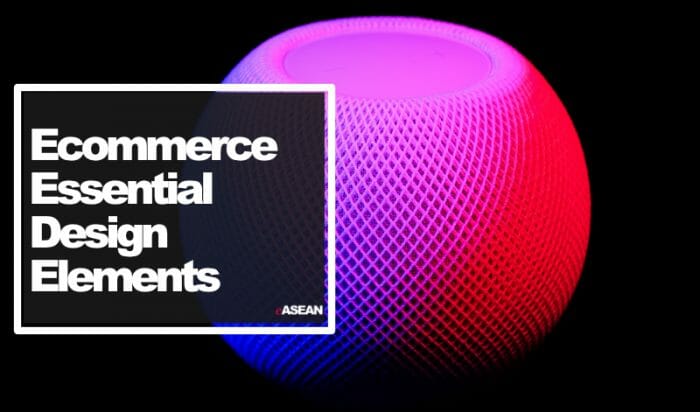 Let me just say it off the bat, you do not need to buy any eCommerce web design packages when you start out with your first online store. The reason is simple, if you are using an online store software like Shopify, then it has a place called a theme shop that is packed with all of the latest eCommerce web design trends and templates that you can get for free simply by adding them to your store.
This means, eCommerce website design Singapore doesn't have to cost you a lot of money, and, you will be able to find a theme (for free) that:
Looks great,
Is optimized for SEO,
Is easy to use,
Mobile responsive (meaning it looks great on mobile devices too).
While design covers how your new store will look and feel, also the choice of your name for your store is a design element, and how people perceive you.
So during this article, we will look at both, the actual physical design necessities and also the branded domain name that you need to choose. First, let's look at the basics of eCommerce web design for your new Singaporean online store…
Basics of eCommerce Website Design Singapore
How your online store looks and feels is important to buyers. With is being so important to buyers it must become important to you too.
And in this day and age, no matter how we look at it, we must have a good-looking website for our customers.
As mentioned before, we choose Shopify for our online store solution, and if you haven't picked your eCommerce software yet, you might like to read more about our top recommendations for Singapore.
Online Store Design Goals
Look professional,
To look like a proper business, even if you may be working on your own,
Invest in ONLY certain things that give us a ROI,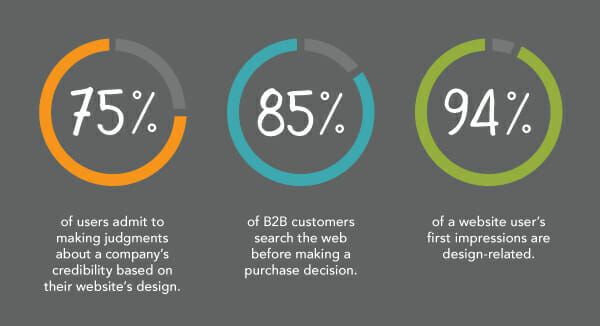 Invest in a logo from a professional. This could cost around $25SGD upwards.
Get great graphics, for your products, no bad graphics, or unclear,
A good website name (something that people can remember).
So firstly, make your store design Clean and Crisp!
1. Make Your Store Clean and Crisp
The issue most people have is thinking they have to crowd too many things onto one page as shown in the example below. That is absolutely not the case at all.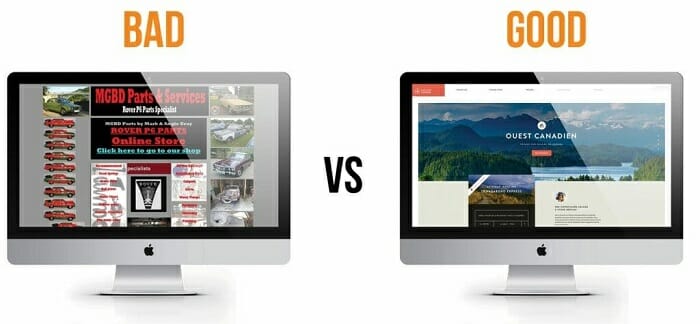 The cleaner and easier on the eye your store is the better it is for not only:
User experience,
But also conversion into sale.
I like to always think of it like this: The more clutter the more confused the brain, and if you confuse the brain it won't buy.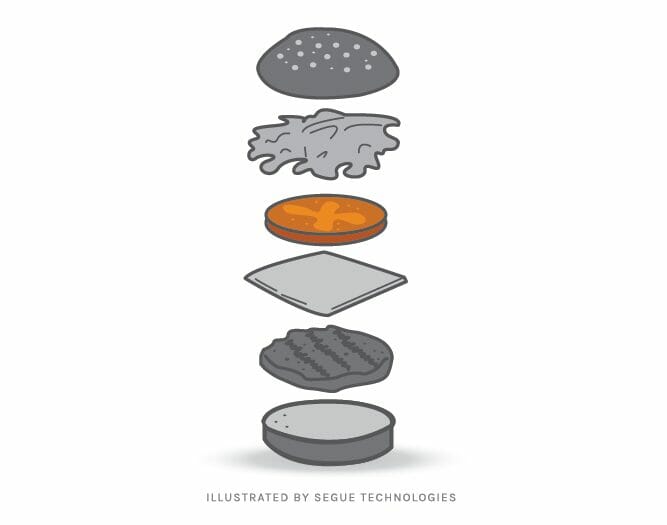 2. Use More White Space
Not only does whitespace give websites the simple, clean, minimalist look and feel that is so desirable in current design aesthetics but it also allows content to be more digestible and accessible to the user.

www.impactplus.com
And when your content is easier to consume it makes people learn more and feel more comfortable with what you are offering, helping increase conversions of your products.
3. Professional Images
The image you portray to your potential customers must be on point.
The better your images look the more attractive we are…but not only that, the more:
Trustworthy,
Professional,
Likeable… the list goes on.
Design is really important in the digital age, so this means that everything you do online has to look brilliant, and there is no excuse not to have it.
There are so many cheap or free places or find design work.
Pexels.com (Images and videos),
Pixabay.com (Images and videos),
FreePik.com (Illustration vectors)
From your Facebook Page to your Twitter, to our website, design matters…
Like this beautifully simple and clean Facebook store…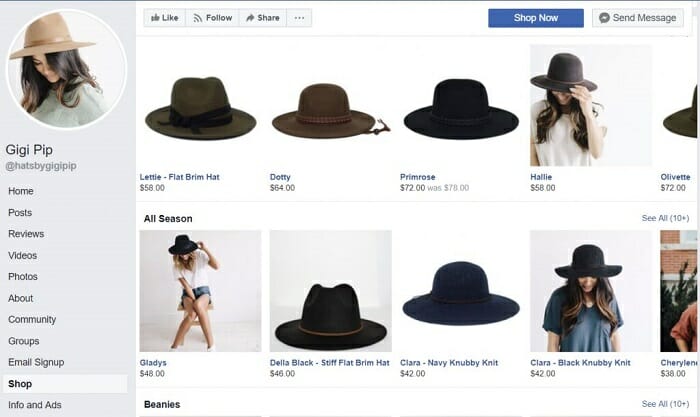 Everything works together, it's congruent. Great design, and how your shop looks help build Authority and trust with our potential buyers. Great Design Helps Build Authority & Trust With Potential Buyers.
4. Free Design For Online Stores
Now while I do recommend getting your first logo created by a professional, there are lots of places, along with the website mentioned above, where you can actually make designs and graphics for your business. But with these, like Canva, Photoshop (for graphics), and Camtasia (for videos), they have a learning curve.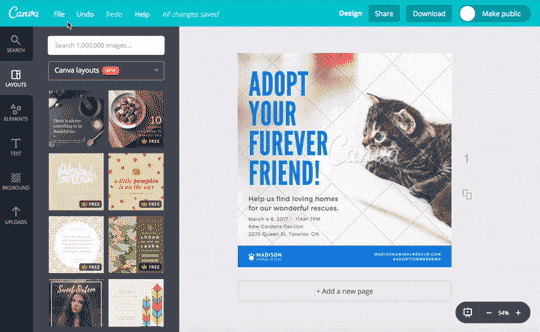 Photoshop and Camtasia are both paid but you can get free trials to see if you like them, but Canva.com is free, and it's really good.
5. Canva Design Tool For eCommerce Web Design
Canva has loads of cool free things to get you started:
Social media images,
Header templates,
Marketing materials,
Documents and presentations,
Invitations and ads (for Facebook and Instagram, plus more),
Loads of free images and fonts to use (actually, their font matching is brilliant),
FREE Training for you (so easy to use).
It also includes a drag-and-drop feature that allows you to simply pull what you want into the screen, making the tool very easy to use.
Our recommendation is to give Canva a try, I'm sure you will find it really useful for your business and work.
6. Using Facebook Creative Hub For eCommerce
Also, remember that Facebook has loads of building tools too. You can make things like slideshow videos as well which are very very powerful at the moment.
They called it Facebook Creative Hub
And you can make so many cool things in here to help with your eCommerce business.
It's very simple to use, sometimes as simple as just uploading some images into the mockup creator, pressing a few buttons, and allowing Facebook to work its magic. Again, it has a learning curve, so be aware of this.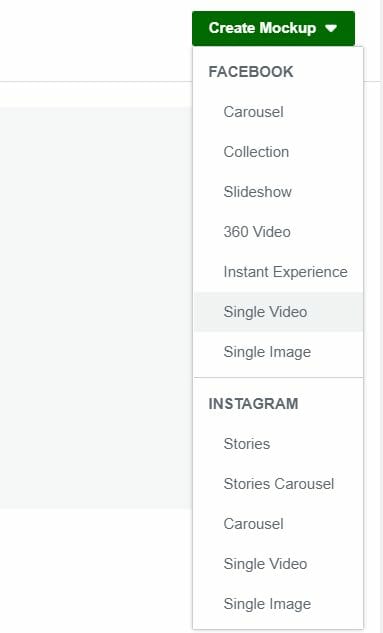 You can use it to create for both Facebook and Instagram, so give it a try.
Picking A Good eCommerce Website Name – Bonus Element
You may not think that choosing a good domain name for a site has much to do with design but listen for a moment.
You want people to see the name of your website and remember it. You want this consistency so that people remember you and they can come back and purchase from you again and again.
Your website name will dictate not only what you can do with your logos, but also, how people perceive your store when they see it on the search engines, which is where most people will.
Know any of the brands shown below?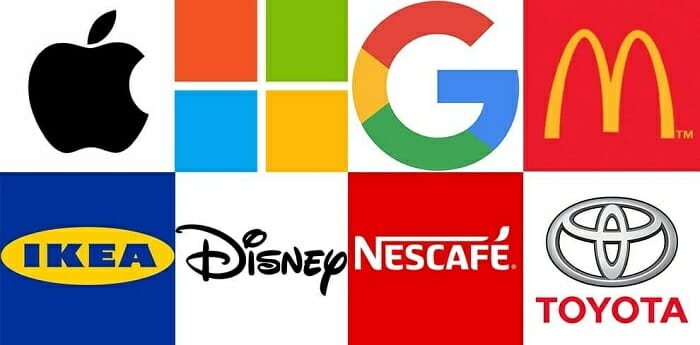 As I mentioned everything has to look congruent, with these brands, and the way yours should too…
If these things aren't consistent it confuses people and they start thinking maybe they have come to the wrong site, or even why are they getting shown a particular ad.
Brand Recognition Is Critical to Getting Clicks to your Singaporean eCommerce Store.
You might have heard people talking about building a general store as their first online shop, like:
Bills Best Bits or Diane's Shop.
But this is too generic and it doesn't mean anything.
It's not a brand, and it's not able to really build into something concrete.
And here is something you may not know.
Google Loves Brand eCommerce Stores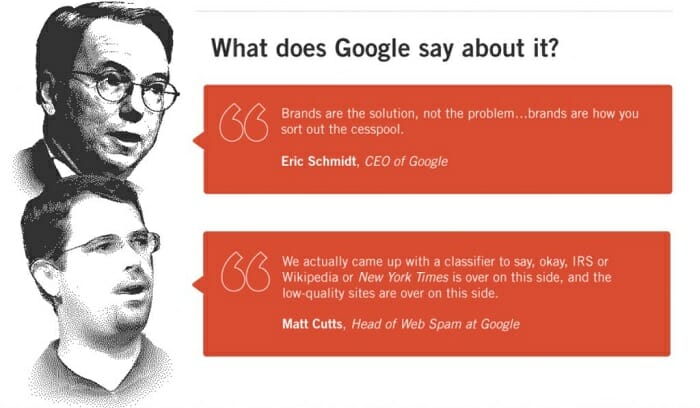 And if Google loves brands that means that it is good for SEO. So the better a name you can choose for your store, the easier it will be to turn it into a quality brand. When this happens Google will start sending you more visitors to your website for free.
So start thinking of a name that will stand out, that's not being used by anyone else.
Niche Branded Stores
When you create an online Store our recommendation is to go for a Niche Store, like Astronaut.
When building this Niche (Branded) store you ensure you have everything is working together:
Graphics,
User experience,
Branding,
Domain Name.
This helps to increase the click-through rate of your ads, and it increases the engagement of your posts, because you know who exactly you are targeted, and all of the work you do, is focused on that target market. It makes the process of content creation so much easier. Going Niche:
Starts to build your brand,
It increases rankings,
And it increases your ability to be recognized.
eCommerce website design for your Singaporean store is one of the vital elements you need to consider when starting out online.
Read through this article again, revisit the pages mentioned and start using the free tools that are here as resources.