A2 Hosting and Bluehost have been there for more than a decade. We can't deny the fact that both web hosting services have slowly paved their way to the top of hosting choices in Singapore.
It doesn't matter whether it's Malaysia or Singapore, Thailand or Vietnam – both of these hosting companies have shown a mark of excellence in almost every Southeast Asian nation as well as across the globe.
Bluehost and A2 Hosting have a distinctive customer base. It would be unjustifiable to place Bluehost above A2 Hosting and vice-versa. Anyway, I am here to help you make the best decision.

A2 Hosting vs Bluehost – Which is Best for Singapore?
A2 Hosting Singapore Overview
The foundation of A2 Hosting is filled with amusement. In 2001, it was founded as Iniquinet. At that time, it was designed to deal with only a small number of customers.
As A2 Hosting's customer base grew, in 2003, they picked a better name, management, and business frame altogether.
No Singaporean Web Hosting is As Versatile As A2 Hosting
Fortunately, A2 Hosting is like an ice cream parlor. You can pick anything you find suitable.
From dedicated hosting to reseller hosting – almost every plan is there for Singaporean users. In addition, you can get various solutions for your website.
A2 Hosting's Turbo Servers Make it Stand Out Among All Web Hosting Services
Its Money Back Guarantee Proves it As the Best Hosting in Singapore
Have you ever heard about an anytime money-back guarantee? Yes, you can expect an anytime money-back guarantee from A2 Hosting.

Please keep in mind that you won't get a refund for admin fees, add ons, and domain registration.
A Wide Range of Coding Language Support for the Growth of Singapore's eCommerce Companies
A2 Hosting offers you PHP, Java, Python, NodeJS, Perl, Rubi Rails, and other necessary coding language support. As a matter of fact, only a few web hosting services provide such coding language support.
User-Friendly Site Builder for Every Singapore Digital Marketing Needs
If you have never built a website before, A2 Hosting will be easy. In case, if you consider yourself a geek, you will love A2 Hosting's site builder.
Believe it or not! A2 Hosting's cPanel is good enough for users of all experience. You can customize things the way you prefer.
Bluehost Web Hosting Overview
Bluehost was founded more than a decade ago. In the web hosting game, it's well-known as one of the best competitors.
As a matter of fact, it comes under the top 20 largest web hosting services. According to stats, Bluehost is currently hosting more than 2 million domains, that's pretty significant.
Bluehost Is Recommended by WordPress
Bluehost Offers One of the Fastest Supports Among All SEA web hosting services
Bluehost is famous for its amazing support team. Even in less developed countries like Timor Leste and Brunei Darussalam, its support team is able to provide the fastest support.
If you ever feel bad about something on Bluehost, you may seek help from active experts in a couple of minutes.
Suitable for Every Singapore Digital Marketing Business
Some people want to build an eCommerce site, some want to build a great portfolio, and some even want to build a personal blog. If you're struggling to find the right web hosting for yourself, Bluehost is good enough to fulfill every need.

A2 Hosting vs Bluehost Comparison SG
Are you still confused?
Let's do a quick breakdown of both web hosting companies, as they provide similar services.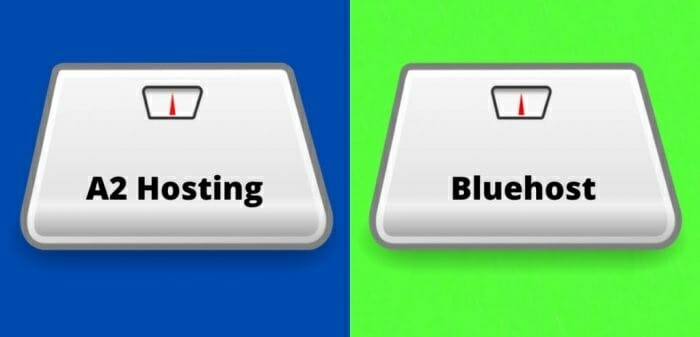 From now on, my A2 Hosting vs Bluehost review is going to make your decision more transparent.
Benefits of Bluehost Website Host
Money-back guarantee for a month
Simple and easy to use interface
A free domain name for 1 year
HTTP/2, NGINX+, and HTTP/2 caching
SSD hardware
1-click easy installation
Free SSL certificate
Unmetered Bandwidth
24/7 customer support
Spam experts
99.99% uptime guarantee
Bluehost has powered 2 million websites worldwide
Benefits of A2 Hosting
99.99% uptime guarantee
Anytime money-back guarantee
Turbo servers
Unlimited storage
Has Free migration
Automatic Free daily backups
Free server rewind tool
Equipped with accelerators like OPcache, Memcache, and TurboCache
Unlimited bandwidth
A2 Hosting offers migration free of cost
Bluehost's Advantages Over A2 Hosting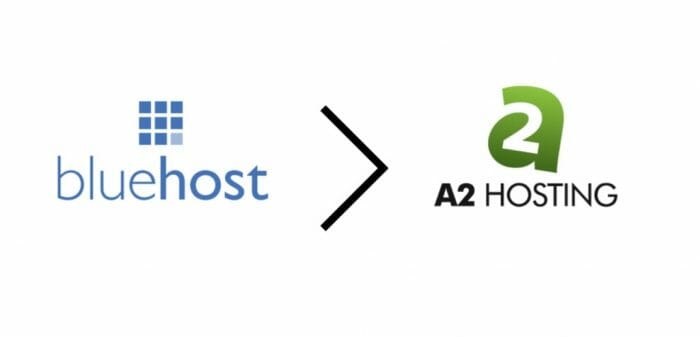 Affordable Web Hosting Plans for Every Singapore Entrepreneur
On one end, A2 Hosting Singapore offers you its turbo max plan for SGD19.99 ($15USD). On the other, Bluehost provides the same plan for SGD$18.65 ($14USD).
Apart from shared hosting plans, if we compare VPS plans, we can find Bluehost is way more affordable than A2 Hosting.
Better Interface and Navigation
Although A2 Hosting has a great site builder, Bluehost supplies a guide, which helps you build a website. Along with this, you will get a stunning and customized WordPress dashboard, it's pretty neat.
Free Google and Bing Ads Credit from Bluehost
No, it's not a luring offer from Bluehost. They really mean it. If you prefer Google ad credit, you can get $100USD ad credit after spending $25USD on Google AdWords. If Bing works better for you, you may get free $100USD ad credit without any spending limit.
You can read about the procedure of redeeming free credit on Bluehost.
Bluehost is the One of the Best Southeast Asia Websites with Fast Responsive Live Chat
Many customers claim that Bluehost's live chat service is faster than A2 Hosting. Generally, you can get a response within 4 seconds.
A2 Hosting's Advantages Over Bluehost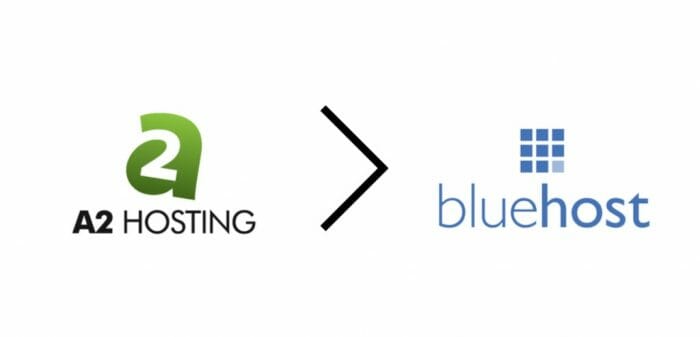 A2 Hosting Turbo Servers Can Bring Amazing Southeast Asia eCommerce Growth
There's an old saying – "everything is built to achieve a specific purpose." Similarly, A2 Hosting is made for speed. Turbo servers of A2 Hosting are the reason behind fast loading of web pages.
By the way, turbo speed servers can help you rank on top. And guess what? Not only locally, you may rank internationally as well. Google always prefer flashy websites.
Free Migration Makes A2 Another Best Singapore Web Hosting
If you want to migrate, A2 Hosting can be the best solution for you. It doesn't charge anything for the migration. On the other hand, Bluehost charges you more than 100 bucks.
Anytime Money Back Guarantee
Instead of 30, you may get anytime money-back guarantee from A2 Hosting. If you feel unsatisfied even after 30 days, you can claim a refund for unused service.
Get Best Web Hosting Security in Singapore
Almost every A2 Hosting plan consists of best security protocols, which include virus scanning, server hardening, brute force detection, dual firewalls, and many other securing processes.
Availability of Nearest Web Servers in Asia
The Internet travels via cables. Logically, a closer server location increases your website loading speed. And you know what? A2 Hosting is located in Singapore. .
Bluehost Web Host Plans
From shared to dedicated hosting – there are 10 web hosting plans for your website. To check every plan, you may visit Bluehost's official site. That way, you can find the latest plans and offers.

To be honest, Bluehost plans are more affordable than A2 Hosting. But still, the performance you get from A2 Hosting is a true value for money.
A2 Hosting Plans
It's surprising to note that A2 Hosting has more than 12 web hosting plans in SE Asia. Just like Bluehost, you can get any type of hosting for your Singapore website.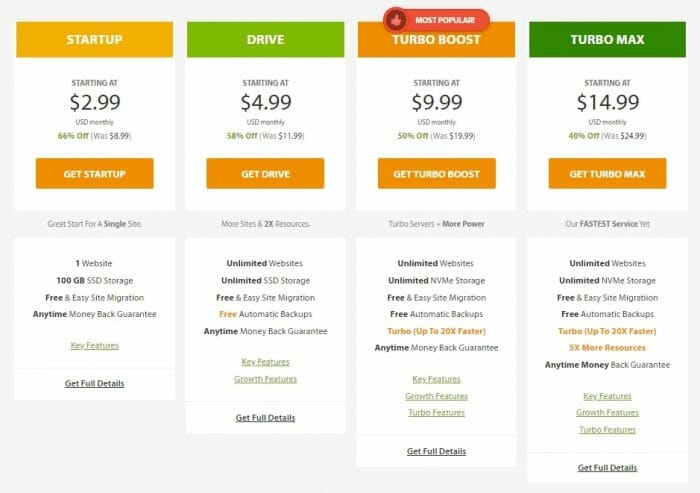 Apart from typical web hosting types, A2 Hosting lets you choose from 3 different web servers in Singapore: core, managed, and unmanaged.
Choose Bluehost if you prefer:
Fast support
Free Google and Bing ad credit
An easy site builder
One of the most affordable web hosting in Asia continent.

Choose A2 Hosting if you prefer:
Fast website loading speed
Highly secure server
Free migration
Anytime money-back guarantee
A wide range of web hosting plans
In terms of website loading speed, migration, and security, A2 Hosting is slightly better than Bluehost for Singapore.
Should we call Bluehost unworthy? Of course not…
If you're someone who is a true beginner, Bluehost would be suitable because of its easy cPanel and fast support team.