We have rated A2 Hosting's Virtual Private Server as the best overall VPS Hosting Provider in Singapore, OK I hear you say, but why have you rated A2 VPS Hosting as the best in Singapore?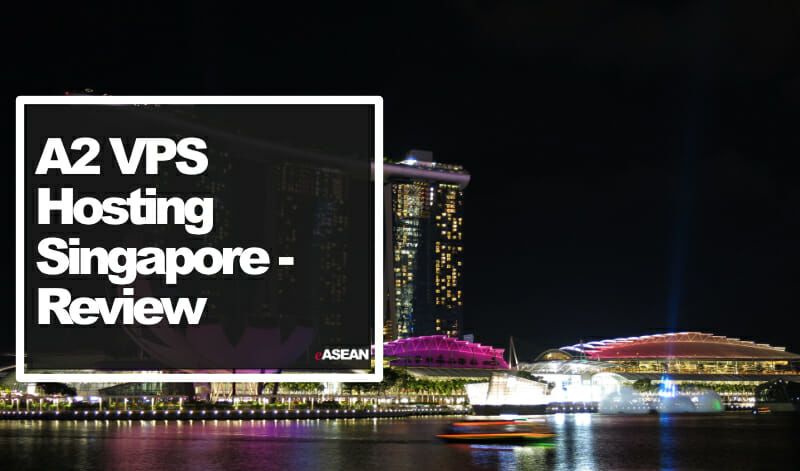 What Is Included In This A2 Hosting VPS Review
They offer the best hardware and CPU's,
Meaning fastest load time,
They have the best uptime guarantee,
Offer awesome security,
Backed up by a smart solution based team of customer service experts,
And packages both managed and unmanaged to suit different pricing budget types
To help you in your VPS Hosting journey, we will do a thorough deep dive of A2's VPS hosting, analyzing:
Performance,
Ease of Use,
Security,
Customer Service,
Price.
And at the end of the article, we will give you our top picks. If you are looking for other cheap VPS Singapore providers then you can check out our breakdown of the top 5 solutions in Singapore also.
But before we get into the deep dive analysis, let's first look at, and understand how A2 structures its VPS offering for its customers.
Remember, VPS is NOT your own dedicated server, you do not rent the whole server for yourself.
Because of the way VPS, or to unravel its acronym Virtual Private Server works, A2 uses a software; HYPERVIZOR to place a virtual management layer over the servers OS, meaning (in plain English) you will get a lot of the benefits of dedicated servers, but for a fraction of the cost, and a sharing of the actual server with others.
But you must remember, it is still a jump in terms of investment for your company, the price differential of this type of web hosting can be significant when comparing some of the more advanced options with shared hosting services.
So it's worth understanding what type of hosting service you're playing with. Your options are split into two macros…

Unmanaged and Managed Plans
In each macro, there are 6 different plans. Let's look at the two macros to understand your options.
Unmanaged VPS
A2 Hosting's Unmanaged VPS gives you the freedom to self configure your own web host server. Perfect for the tech-savvy users and entrepreneurs who want root access to tailor their server to their site's needs.
The introductory unmanaged plans are not as powerful as the managed plans, so this option would be clients that are probably still a smaller business but growing fast, where budgeting is still very important and your sites/operation don't yet need the full power of more advanced hosting plans.
But as you upgrade to the higher-end plans they offer the same power and efficient service as the Managed.
Managed VPS
Managed VPS offers customers 100% worry-free HostGuard Server Management. This is perfect for fast-growing businesses, who are seeing rapid growth in traffic and/or transactions. The Managed plans are packed to deliver on performance, and as you're in a rapid growth phase you probably don't have a full web development team. Following the Managed option, takes the pain and the pressure away, so you can focus on maximizing your website's conversions.
So in its entirety, let's deep dive into and analyze the A2 VPS Hosting offering, as you will see we have a set of 5 detailed criteria that helps us thoroughly analyze in this VPS web hosting review…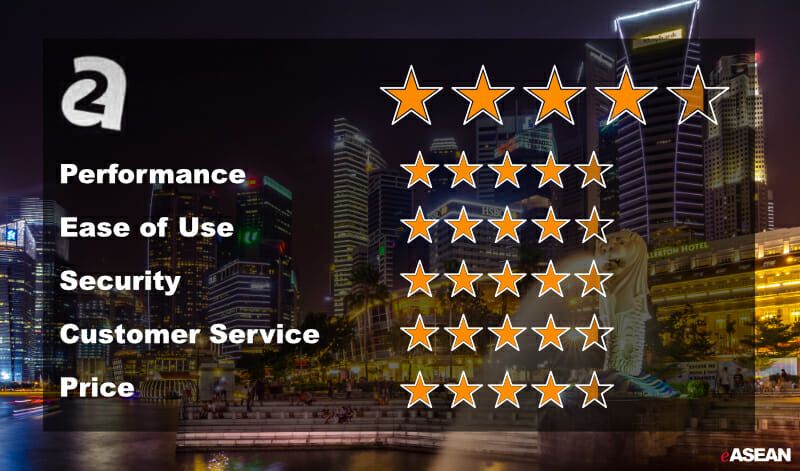 1. Performance
If there's one thing we all know about A2 Hosting is it performs, performs very very fast. They're pitching themselves as the fastest provider around, and their VPS won't let you down.
Hardware on Your VPS
Server/CPU
As you move up to purchase the more advanced plans you will get their Turbo Servers, which are insanely fast, 20X faster than the average server. But if you're not ready to graduate to these higher plans yet, even their more basic plans have a super-fast web hosting included. We run a number of not only WordPress sites on these plans and the speed is the best we have had from any provider.

SSD
All plans come with Solid State Storage, and as you evolve towards the higher-end plans you will avail of the new and very awesome state-of-the-art NVMe SSD, and these little pieces of awesome will deliver the highest and most reliable throughput and fastest delivery times.
RAM: From 1GB up to 32GB. Managed start at 4GB. So every plan is packing a serious bit of punch.
Features
A2Hosting has been around for nearly 20 years, over that time they have learned how to put the optimum plan together, and as with all of their plans, VPS Hosting is packed full of the most essential features including…,
Unlimited storage,
Unlimited transfers
Unlimited databases,
Free SSL certificates
Cloudflare compatible,
Free marketing add-ons and
So much more.
Local servers
To ensure you get the best out of their awesome Turbo Plans, their servers are based here in Singapore, meaning the fastest possible delivery (as the physical distance between the server and your site is nearly non-existent
Reliability
A2 VPS has the best uptime delivery of any provider in Singapore. With an average uptime of 99.99% (beating its guarantee of 99.9% uptime) with many months delivering 100% no other provider can compete, what more can we say
2. Ease Of Use Of VPS
Migration
If you're on one of their managed plans, they will look after your free site migrations, so you won't have to worry about anything. If you're on an unmanaged plan, they make migration as easy as possible. They have created a set of extremely helpful guides (to walk you step by step through the migration) and a set of simple forms (to send your current hosting provider). They also have awesome Guru Technical Support to help you if any issues arise. Migration is usually completed in 24hours and will never take any longer than 48 hours.
Panels
Panels for Linux hosting is in the ever-popular and universal cPanel control panel, which is probably the easiest panel to use. If you decide to go with Windows Hosting, your panel will be the super intuitive Plesk panel. The Plesk Panel is in fact a Windows version of the cPanel.
Developer-friendly solutions
For the developer in your team, they will love these plans as they include a raft of easy software integration. There is preconfigured software on servers in:
PERL, PHP, Python, Ruby, Mysql, and ASP.
With the unmanaged plans, you will get root access and admin privileges so you can shape your site to its individual needs.
3. Security
Maximum Security without affecting performance could nearly be A2's VPS hosting's tagline because they have super security protocols in place, and most importantly your load time performance will not be affected.
With managed VPS hosting you get an IP address that is unique to your server, which offers increased website security.
A2's VPS Hosting is protected by HACKSCAN and their Perpetual Security Initiative. This malware protection will offer your site 24/7/365 protection.
Further backing this up is their Kernal Care Initiative which enables continued updates without ever having the need to reboot the system.
All plans are provided with:
Automatic data backups,
As well as reinforced DDoS solutions.
Also, as you will have root access and admin rights, you will be able to add your own bespoke security software and protocols to maximize your site's protection.
And remember one of the main differences and selling points of going with VPS hosting is that you no longer have to share with other sites, meaning naturally you are more secure (as problems other sites face will not affect your delivery)
4. Customer Service
The Guru Crew are without doubt our favorite (and as a result, we think the best) customer service provider team here in Singapore.
Access
Firstly they are available 24/7/365, and you can contact them across phones (if you prefer talking to a real person in real-time), live chat, email, tickets, and forums. Backing this up, they have some of the best how-to guides if you prefer to do it yourself.
Attitude
Secondly, the team is the most knowledgeable, can-do, friendly team we have dealt with, every request or issue dealt with importance. They are patient and understanding, and have a lovely manner, meaning… they will make you feel calm about the problem, as they will get it sorted with you very quickly.
Location
Finally, and this is very important for you guys when considering a hosting provider, they have a customer support team based here in Singapore, meaning a very efficient service.
Having a Singaporean on the other end of the phone when your site goes down is really helpful, they understand our cultural and social nuances, they understand the pressures of your business better, and it's someone you can build a working relationship with over time.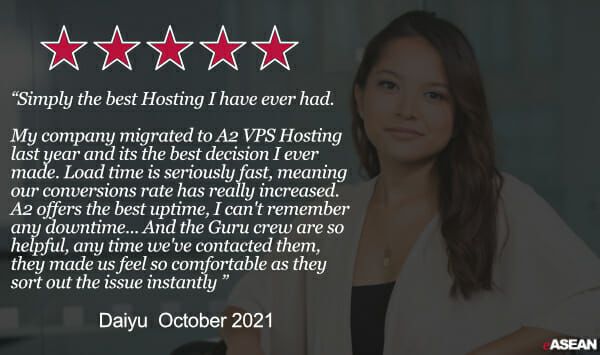 5. Price
Ranges: When looking at price ranges we will split out an analysis into managed and unmanaged.
Managed
Managed Plans range from $39.99 – $99.99 a month. It really comes down to your business needs here when choosing a plan. Even with the entry-level plan which is so packed full of awesome features you'd see a massive uplift in your site/site's performance.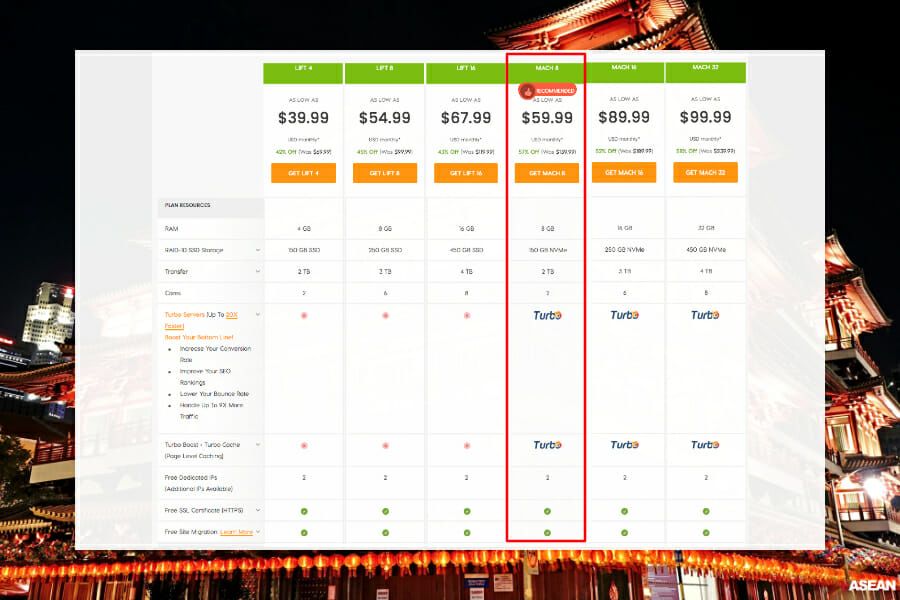 Unmanaged
From $4.99 to $54.99, so you have plans starting at a similar cost to base level shared hosting but you're getting all the benefits VPS Hosting can offer, and reliable affordable service. We would recommend going for a more advanced plan to fully benefit from VPS (we will go into more detail below)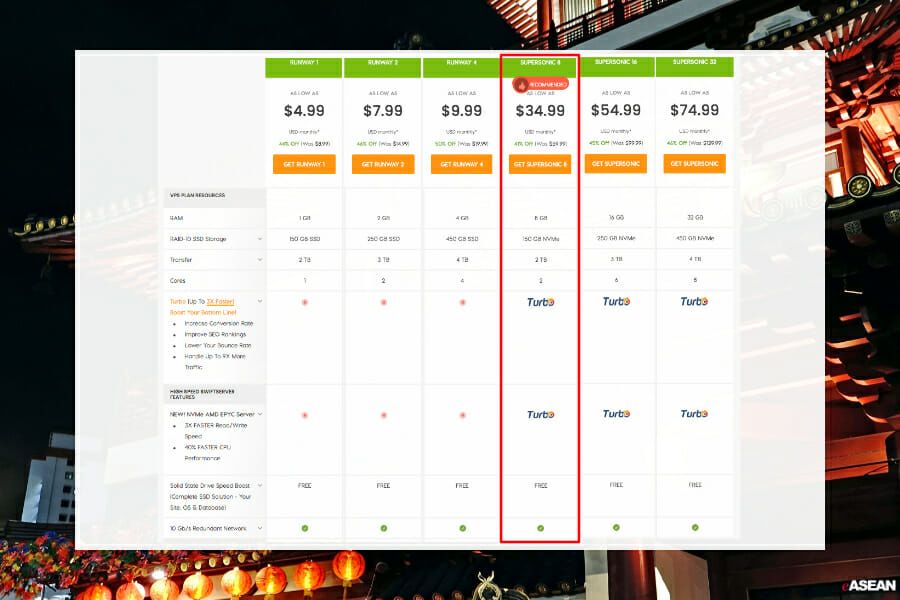 Duration
Plans are offered monthly, yearly and tri-yearly packages. If you're confident in knowing what you want, and you decide to go with a 3-year plan, the discounts are massive, on the managed side of the offering, there are discounts of up to 57% available.
You can click on the corresponding links in this article to bring you to your desired platform plans.
Money-Back Guarantee
They have the standard 30-day money-back guarantee, not as good as some of the other providers, but definitely enough time to test out the plan and its performance to see if its the right option for you and your sites
Our Picks
We have chosen our favorite plans from both the managed and unmanaged options. When choosing our favorite plan, we like to put ourselves inside the head of the business owner so as to understand the different pressures that are being felt, and that we have felt in the past, and as such we choose a plan which we feel will best suit and most alleviate pressures.
Best Unmanaged VPS Plan SG
If you're serious about moving up to VPS hosting, and you have the resources to manage it yourself, you need to go with a plan which really delivers, and ultimately improves the overall performance and delivery of your site/sites.
Look no further than the Supersonic 8 plan, with its Lightspeed Server (20X faster than other servers) 150GB NVMe SSD storage (we love nonvolatile memory express storage), and 8GB of RAM all packaged up for $39.99 a month, with it you have a super-powerful offering here.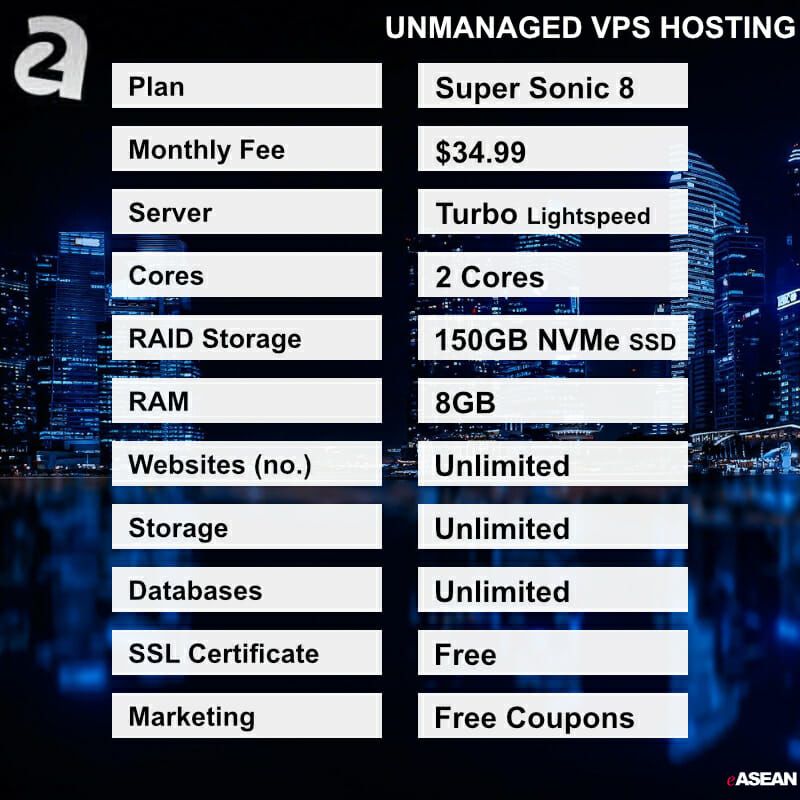 Best Managed VPS Provider In Singapore
We have to go with the Mach 8 plan. We think it's priced perfectly at $59.99, for a rapidly growing business this is an acceptable price range, but it's never about price, it's about what it offers, and as the phrase goes it will give you "a lot of bang for your buck".
The first thing to say is it's run on the awesome LightSpeed 20X Server. Storage is on the brilliant 150GB NVMe SSD, and you'll get 8GB RAM as well as all the best features that A2 offers.
We love this plan and strongly recommend it to any business that is growing very fast and who'd benefit from an awesome team looking after your hosting. And of course, you have your own dedicated team looking after your server and hosting.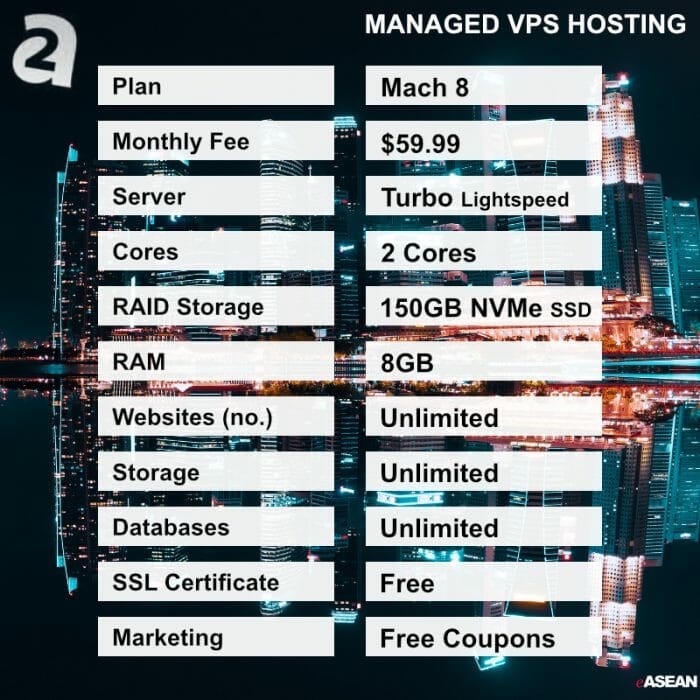 One Last Thing In This A2 Hosting VPS Review
If you're a rapidly growing business, and you find the off-the-shelf nature of shared hosting plans is limiting your business/site's potential, you really should seriously consider graduating to VPS hosting.
If VPS hosting is a real consideration for your business and your budget allows, A2 has some of the best and very fastest plans which will help sky-rocket your site's performance.
If you have found this A2 Hosting VPS Review helpful, please make sure to drop us a message or comment below.